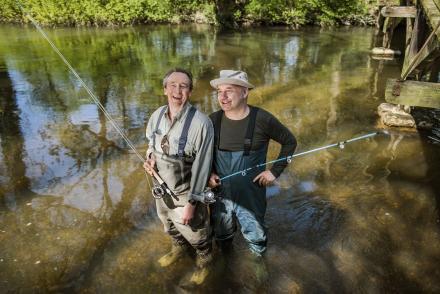 Bob Mortimer and Paul Whitehouse have written a book inspired by their BBC2 series Mortimer & Whitehouse Gone Fishing.
The book, which has the same title as the BBC2 series, was published by Blink Publishing on May 30. In it the two comedy greats "talk life, friendship and the joys of fishing." The comedians are also currently working on a second series which will be broadcast in summer 2019.
Thr book blurb says: "Paul is an experienced angler. Bob last fished as a child. Paul will attempt to teach, Bob will attempt to listen. Both are old, both are ill, they are slightly cynical: so can they still find pleasure in something that gave them so much when they were young? Will they have a heart attack while trying to do so"?
Bob tweeted when the book was announced: "Me and Paul are writing a book about fishing, friendship and fannying about on riverbanks."
Out now. Buy your copy here.
Picture: BBC