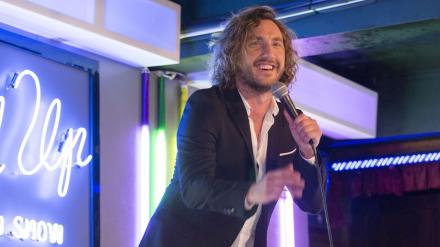 Well, this is certainly an interesting way of putting stand-up on television. Rather than go down the perfectly reasonable tried and tested Live at the Apollo route for their new series, ITV has snapped up some of comedy's top rising stars and a few established ones and has got them to act out their jokes in sketches as well as tell them onstage.
So, for instance, Seann Walsh starts his "what's the thing about desserts in restaurants?" schtick and before you can say "illicit kiss" he's at a table with a girlfriend building to the punchline of his gag. Or Suzi Ruffell is talking about the horror of hen dos onstage and the next minute she is at one, drinking cocktails through a penis-shaped straw.
It's not an entirely successful idea but it is definitely a curiously watchable one. I wonder what the logic was behind it. Did ITV think that we have reached peak stand-up with Netflix rolling new ones out all the time? Did they want to try something revolutionary? Or did they want to do make a sketch show but did not quite have to courage to go all in on one.
Whatever the reasons this does have plenty of laughs - it's worth watching just for Adam Hess talking about his job interview from hell where he found himself eating a kiwi fruit in the middle of it. Hess deserves to be one of the breakout stars here - he also has a very giggly anecdote about trying to get into a Wetherspoons pub while drunk by switching clothes with his mate.
Catherine Bohart, Glenn Moore, Alex Edelman, Brennan Reece and Dane Baptiste also feature in the first episode, with Russell Kane and Alfie Brown among those set to appear later on in the series. With comedians of this calibre doing fast-paced, tightly edited routines you'd be hard-pushed not to find something you like. The only trouble is you might wish you were watching them doing straight stand-up instead.
The Stand Up Sketch Show, ITV2, Mondays, 10pm