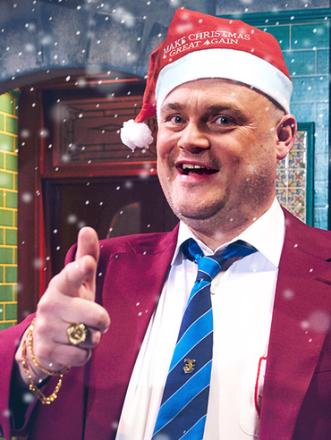 It's a bit of an odd thing big comedians doing special Christmas shows. In a business geared to major tours or the Edinburgh Fringe, where do you even find the time to write a special show for Christmas? Luckily Al Murray can think so fast on his feet when he is onstage he hasn't had to do a lot of new writing for this affably riotous Pub Landlord knees up. 
I thought maybe this would be a dry run for his big national tour next year, but if anything The Twelve Days of Christmas is more of a greatest hits set with a bit of tinsel sprinkled on the top of it in the form of shouty Pub-style renditions of some much-loved seasonal songs.
The best bit of the show is that Landlord trademark, the spontaneous banter with the audience. While he obviously has some standard lines for the main professions – IT, banking, etc – it never ceases to amaze me that he can come up with such good gags off the cuff. And on this occasion he was blessed with some comedy gold in the audience in the form of a French fan (surely a first?) and a death metal musician who had maybe taken a wrong turn on the way to the Bill Bailey show at Wyndham's.
Murray really is brilliant at this sort of thing, from firing out superb put-downs to sloshing beer over the front row – and me, six rows back, which I'm sure was accidental, the laundry bill is in the post – to doing some decidedly unreconstructed flirting with the women in the crowd. His well-worn white-wine-for-the-lady patter is so ridiculously, knowingly old school it could not possibly be construed as offensive, though you never know these days.
If there is a fault to this show it is that it doesn't really build to anything. There's a game show element in the second half in which contestants score points by getting the answers wrong and again he was gifted with a couple of good sports from the crowd who had maybe over-indulged before the gig, which doesn't even start until 9.45pm, and were happy to get stuck into the stupidity and wear Sumo-style Santa costumes.
There was inevitably material about Brexit, although maybe not as much as one might have expected. For the Pub Landlord (or is it Murray?) the message was pretty succinct. We are all in the same boat...and up shit creek. Instead the emphasis was on getting into the Christmas party spirit rather than delivering a party political broadcast. Although he did end with the same cod-Churchillian anthem that he ended his 2016 post-Referendum show with – Let's Go Backwards Together. It sadly seems as apposite now as it did then. 
Until December 23. Buy tickets here. Details of 2019 tour here.