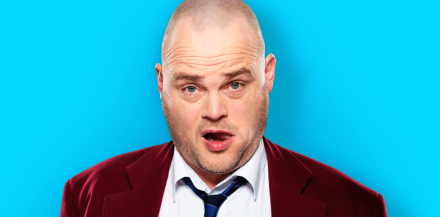 Update 17/7: 20 more dates added from October. Tickets on sale now at link below.
Al Murray, The Pub Landlord, will embark on 43-date tour of the UK from May 2019. The Landlord Of Hope and Glory Tour currently starts at the Chelmsford Civic Theatre on May 8 and finishes at the Shanklin Theatre on the Isle of Wight on July 6.
Murray/Landlord says: "Citizens of Hope and Glory! Our new tomorrow beckons. A new tomorrow that smells reassuringly of yesterday, but with wifi.  One last heave and we will be there. And when the going gets tough the tough get going. Although the going won't get tough and anyone who tells you it is going to be tough is lying.  Come join me to marvel at the majesty of our green and pleasant land. A land globally renowned for our culture, history and places, like the world-famous Salisbury Cathedral.  Join me to step backwards into the future."
For over 20 years Al Murray, The Pub Landlord has filled the biggest venues around the UK, including London's 02 Arena and, on his 2016 extended sell-out tour, the iconic Royal Albert Hall.  He has won numerous awards, hosted many critically acclaimed television shows including the 2017 ITV primetime Christmas special, Make Christmas Great Again, and in 2015 famously stood for election in the hotly contested seat of South Thanet.
Tickets on sale now. All dates here.