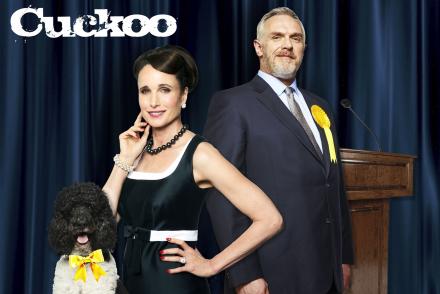 Hollywood star Andie MacDowell is confirmed to join Greg Davies in the new series of Cuckoo, coming soon to BBC Three and BBC One.
Andie will be replacing Taylor Lautner who has played Dale in the hit series for three series as the title 'Cuckoo' character. Series four saw Dale leave Lichfield as the end of the series after he and Rachel leave to go travelling to Sierra Leone. Just as Ken Thompson thought the chaos of Cuckoo was behind him, the sister he never knew he had Ivy (Andie MacDowell) arrives…
Taylor Lautner says: "I'm so happy I get to pass my Cuckoo baton to someone as talented as Andie. She'll do a great job keeping the Thompson family on their toes! I'll miss everyone on the show - not least Chief Ken. But not all goodbyes are forever."
Damian Kavanagh, Controller of BBC Three: ""We're delighted that Andie MacDowell will be joining the cast of Cuckoo for Series 5. Following Taylor's hugely popular stint on the show, Andie will bring a different flavour to the show and it's incredibly exciting to see a talent of Andie's calibrate joining the brilliant existing cast for what will be another memorable slice of life with the Thompson family in Lichfield"
Shane Allen, Controller, Comedy Commissioning: "Cuckoo's successful series regeneration of the lead protagonist makes it the Doctor Who of comedy. It's a real badge of quality for the show that the writing continues to attract the very cream of Hollywood talent to the Midlands" 
Ash Atalla, MD of Roughcut television: "Andie MacDowell has been in some of my all-time favourite comedy films. What an honour to have her in Cuckoo. Hugh Grant was right, she's a class act".
Series five is created by Robin French and Kieron Quirke and written by Robin French, Kieron Quirke and Paul Doolan.
Cuckoo will TX on BBC Three at 10am on Friday 4th January as a boxset, and BBC One at 11:35pm on Friday 4th January weekly.
Picture: BBC/Rough Cut