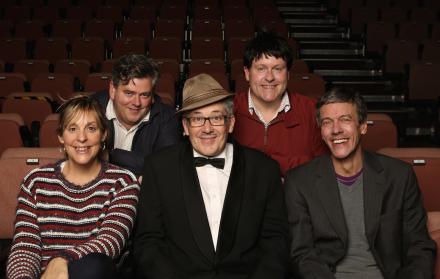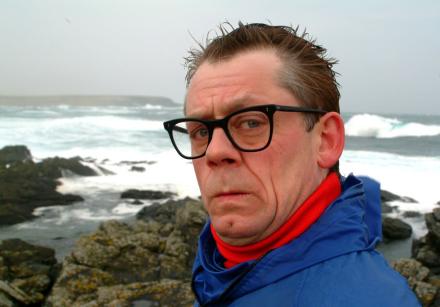 BBC Radio has today announced its on-air highlights for the festive period. Bob Shennan, BBC Director of Radio & Music said: "This Christmas BBC Radio will offer an unrivalled collection of programmes featuring the finest DJs, musicians and actors. Highlights includes shows for John Shuttleworth, Count Arthur, Stewart Lee, Diane Morgan and Russell Kane. Details below.
The Shuttleworths: Sunday 23 December, R4, 19:15 – 19:45 John Shuttleworth has to combine his Christmas Broadcast with a visit to the local hospital, as his friend Alan the Opera Singer is in for tests. John's wife Mary, along with Ken Worthington and Joan Chitty, accompany him to the hospital for the day trip. Once the rather expensive fee has been paid in the hospital car park, the ladies go to the café and hospital shop while John and Ken visit the patient. John has his trusty keyboard with him to play Alan a Christmas medley, but when he arrives at the ward, Alan is nowhere to be found and his bed is worryingly empty. As Ken begins to panic about Alan's state of health, John sings his new song Going Rapidly Downhill to take his mind off Alan's disappearance. When Joan turns up with some mistletoe, John decides it's time to go looking for Alan – especially as his tummy is rumbling. 
Late Junction Christmas Special, R3: 25 - 27 December, 23:00 - 00:30 During Christmas week, Late Junction will be guest edited and presented by comedian and music fanatic Stewart Lee. Tuesday 25 December - Guest presenter Stewart Lee with Richard Dawson. From his time spent in record shops as a teenager, to more recent work moonlighting as a music critic, comedian Stewart Lee has had a long-time fascination with music.
Over the years he has built up a deep collection, with improvised works, post-punk and folk traditions all well-represented. Folk is where Lee begins this programme, joined by Richard Dawson, one of the leading lights of the British scene. Though rooted in the music of his native north-east, Dawson's influences include psychedelia, art-rock and the Sufi tradition. He brings in some tracks from his own extensive music library to share with Stewart. Wednesday 26 December - Guest presenter Stewart Lee with Tim Key. Stewart Lee's Christmas stint as guest editor continues as he's joined by fellow comedian and leftfield music fan Tim Key.
As a Russian graduate, Key often features unusual Soviet-era music in his live shows, from Vyacheslav Mescherin's Ensemble of Electronic Musical Instruments, to composer Mikael Tariverdiev, a recent discovery that can be heard in his latest show 'Megadate'. Key brings in some of his most treasured tracks; Lee introduces him to some of his own collection too. Thursday 27 December - Stewart Lee presents Laura Cannell's Mixtape. In his final show as guest editor, Stewart Lee presents a mixtape from recorder player and violinist Laura Cannell. 
Monday 24 December – Wednesday 26 December, BBC6, 16:00-02:00 BBC Radio 6 Music welcomes three Wise Women who will be taking to the airwaves to bear their gifts of wit, wonder and wisdom. Across Christmas Eve, Christmas Day and Boxing Day, Diane Morgan, Courtney Barnett and Zawe Ashton each present three hours of their favourite music (4 -7pm) as well as selecting an evening's worth of programmes from the 6 Music archives. Zawe Ashton – Christmas Eve The actor and director starred in the BBC's Wanderlust earlier this year and recently starred in John Ridley's 1970s political drama Guerrilla, opposite Idris Elba, Freida Pinto and Babou Ceesay. Previously, she appeared in Tom Ford's critically acclaimed feature film, Nocturnal Animals. In 2012, Zawe was nominated for British Independent Film Awards' Best Newcomer for Carol Morley's film, Dreams of a Life. She is also well known for playing the brilliant Vod in Channel 4's Fresh Meat; other screen credits include Weekender, St Trinian's II, Blitz and Doctor Who. Diane Morgan – Christmas Day Originally from Bolton, the comedy actor and writer is best known for her incarnation of talking head 'Philomena Cunk' which originated on Charlie Booker's Weekly Wipe TV series. 
Russell Kane on BBC Radio 5 Live: Tuesday 25 December, 09:00-11:00 Comedian and author Russell Kane makes his 5 live presenting debut with a mix of festive fun, as he invites a selection box of guests to keep you company on Christmas morning. 
Count Arthur Strong's Radio Show! Christmas Special: Doorknobs and Matchsticks, R4, Wednesday 26 December, 18:30-19:00 Arthur returns to BBC Radio 4 with a celebratory 50th episode of his long running sitcom. The former variety star is understudy on a Christmas production of Bedknobs and Broomsticks. Will he ever get on stage? Steve Delaney stars as Count Arthur, supported by a host of regular characters created by Mel Giedroyc, Terry Kilkelly, Alastair Kerr and Dave Mounfield. 
The Hartlepool Spy, R4, Tuesday 25 December, 14:15 – 15:00 A comedy-drama by BAFTA and Emmy-winning writer Ian Martin, with a cast including Michael Palin, Jim Moir, Toby Jones, Gina McKee and Monica Dolan. 1804. Britain is at odds with Europe and at war with France, again. Paranoia is at boiling point. Sensational rumours flood the country. Napoleon's spies are everywhere. When times are tough, people look for strong leadership. Alas, the people of the North Eastern fishing town of Hartlepool have a corrupt mayor, Tucker Palmer (Toby Jones) and a narcissistic vicar, Rev William Ferrier (Jim Moir). The two men can't stand one another, each (correctly) suspecting the other of lining his pocket at the expense of the parish, and each in competition for the favour of local land-owner aristo Lady Embleton (Gina McKee). One Sunday morning, Lady Embleton, Mayor Palmer and his formidable wife Mrs Palmer (Monica Dolan) are in the front pew as Ferrier delivers an impassioned sermon about the vain delusions of those with earthly power, when news comes from the harbour. A French ship has been spotted and it's heading their way. 
Matt Lucas, R2, Tuesday 25 December, 11:00-14:00 Comedian Matt Lucas hosts his very special live Christmas Day celebration, joined by celebrity friends, listeners and his mum. Matt says: "I'm really excited to be live on Radio 2 on Christmas Day with a big show. Please don't rob my house." With phone calls from celebs explaining what they are up to on Christmas Day, to a live 'Christmas Dinner Watch', the show is Matt's very special take on the festive celebrations. There's Matt's International Christmas Quiz and his 'Lack Of Gratitude' Top 10, where he goes through the ten most unloved presents opened that day. Music is a key part of the show, with an amazing variety of Christmas tunes including some brilliant alternatives, a chart rundown of the most unusual festive tracks and Matt's performance of a very special Hanukkah song. Naturally, the soundtrack will be complemented by lots of dedications to those working across the country during the festive period.
Party, R4, Wednesday 26 December, 11:30 – 12:00 Writer Tom Basden reunites the cast of this critically acclaimed Radio 4 series six years on, as the group of aspiring political agitators once again apply their small minds to big problems. This Christmas one-off special sees the team reunite one last time to take on Donald Trump. Starring Tom Basden, Anna Crilly, Tim Key, Jonny Sweet, Katy Wix.
Count Arthur picture by Andy Hollingworth
John Shuttleworth picture by Keith Harrison