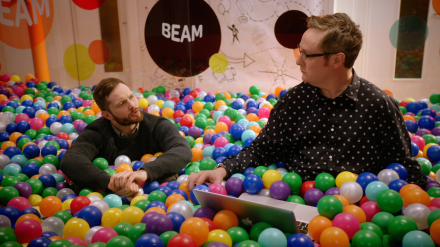 BAFTA-nominated comedy mockumentary Pls Like is to return for a brand new series on Tuesday 25 September at 10am, releasing as a box-set on BBC Three and then airing on BBC One weekly from Friday 28 September.
Series two will follow millennial documentarian Liam Williams ('If Stacey Dooley won't do it, he will') as he delves deeper into the increasingly strange and worrying world of vloggers. He revisits talent manager James Wirm (Tim Key) who, after a particularly turbulent year, is at the forefront of attempts to restore the reputation of YouTubers - and salvage his business – with 'The Likeys', his newly created awards celebrating the positive role YouTubers play in the world. 
Returning to the cast for Pls Like series 2 are Jon Pointing (Charlie South), Emma Sidi (Millipede), Hammed Animashaun (Johnny Jackson) and Ellie White (Polly Sprong). Joining this Who's Who of comedy talent for the new series is Tom Stourton (madly popular and hugely controversial 'DumpGhost'), Tash Demetriou (ASMR vlogger 'Tingle Maid'), Arnab Chanda (sensitivity practitioner Hen), Shivani Thussu (political vlogger 'Dina Discourse'), Grace Hogg-Robinson (17-year old agent Chelsea) and Kieran Hodgson (Biel Agnew).
Writer and star Liam Williams said: "I'm delighted to be working on another series of Pls Like - with a great cast and crew once again - and even more delighted that it's been another terrible year for YouTube and online culture in general." 
Alex Moody, Commissioning Editor at the BBC said: "We couldn't be more excited to welcome back the BAFTA nominated brilliance of PLS LIKE for a second series and another chance for Liam Williams to cast a satirical eye over goings on online."
Pls Like is a Shiny Button Productions show for BBC Three, written by Liam Williams, created by Olly Cambridge, directed by Tom Kingsley and produced by Rupert Majendie. The commissioning editor for the BBC is Alex Moody.