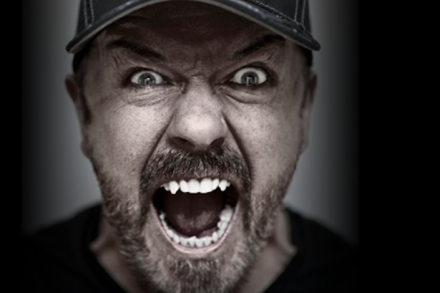 Update 28/8: Ricky Gervais has now confirmed the date of his next warm-up. It will be at Finchley Arts Depot on September 20th. Tickets go on sale at 10am on Wednesday, September 12 here. There are also dates at Leicester Square Theatre on September 15 & 16 through the same link, though they are both sold out.
Ricky Gervais has announced more work-in-progress gigs in September to road-test material for his next live show SuperNature.
SuperNature "looks at the absurdity of superstition, magic and all unsubstantiated beliefs, and celebrates the conclusion that Nature is already Super enough. What's the most incredible fact you know?"
Gervais only finished his Humanity tour earlier this year, but has said that the show, which has been a huge commercial and critical success, has rekindled his enthusiasm for stand-up comedy, making him keen to do a follow-up show quickly. Humanity is currently streaming on Netflix and the network has already bought the rights to air his next stand-up show.
The comedy superstar recently tweeted that his show on Sirius XM  will be returning soon: "America's Number 1 weekly Radio Show and Number 1 Comedy Download of the year returns in September. The new season of Ricky Gervais is Deadly Sirius coming soon." Reports have said that his deal with the broadcaster makes him the highest paid UK presenter on radio anywhere in the world. 
Follow @rickygervais for more updates.
Picture: Rich Hardcastle