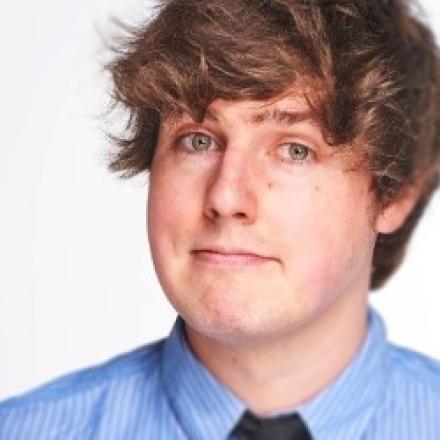 It's always fun to go and see a comic on the day they've been nominated in the Edinburgh Comedy Awards.
There's always a bit of extra excitement in the room, a clutch of industry faces at the back, a little bit of bounce and buzz.
"There were hardly any tickets sold this morning…" observes Glenn Moore laconically. And then… something happened this afternoon."
Moore has always had a downcast air. But this year he's positively curmudgeonly. And he isn't going to let a bit of good news interfere with that.
And nor should he.
Moore's current gripe is about the outbreak of truth telling in comedy. He's just not down with that at all.
His speciality is intricately written stories, full of silly wordplay and puns. He's very middle class, he's about as English as it's possible to be and it just doesn't suit his style to start talking about his real life and displaying his emotions all over the place.
So he's telling a story, which may or may not be true – he refuses to divulge, about how he split up with his girlfriend and applied to be on the first manned space flight to Mars.
In the course of the story we get to meet his flatmates Shahil and Susan, find out why he doesn't trust surgeons and learn why he likes to keep a plate down his trousers.
Moore's story winds back and forth, weaving in silly jokes, puns and wordplay, bringing in callback after callback and playing with the ideas of truth and falsehood like a cat with a piece of string.  
Would his story be funnier, or better if it was true, or partly true? Moore refuses to let us in on the facts, challenging himself and us to go along with his tale whether it is real or not.
Moore has always had some great material and written some excellent jokes – but what elevates this show is the style of delivery.
He may be faking his irritation. The whole thing might be a lie. But it is an interesting debate and Moore makes us care about it.
He's animated, he's worked up about things, he's expressing a level of passion that electrifies the room. He's sweating under his cardigan. His glasses are steaming up.
This change of pace has worked wonders. Moore's clever, inventive and imaginative storytelling is now getting the great big laughs it deserves.
And – he's right - it doesn't even matter whether it is true – or not.
Until August 26. Info here.
Read more Edinburgh Fringe reviews here.
****