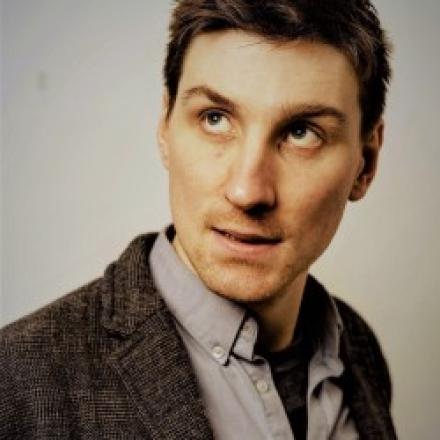 There are so many strong shows at the Edinburgh Fringe this year it is easy for some to get overlooked by reviewers. Sean McLoughlin doesn't seem to have had many critics in so far but he doesn't seem to be having much difficulty getting fans into his show. I had to squeeze into the back for this one and watch it on a bench facing the wrong way.
It was worth the stiff neck though. McLoughlin has become a Fringe regular in recent years and is the epitome of the skilful stand-up. He is self-mocking but sharp and confident, angry but not to the extent that it gets on your nerves. He also looks the part. Imagine if Lionel Messi had decided to go on a crash diet, not sleep for a week, don a shirt and jacket and lurk in a basement in Edinburgh for August.
McLoughlin clearly knows what he is doing. Hail Mary is initially about getting older, about your ambitions not working out as you had planned. It is also about our obsession wth technology and how our humanity is being relentlessly taken over by social media and perhaps we don't even realise it. He's mad as hell and not going to take it any more, but first of all he is going to make us laugh.
And just as you think you know where you are he also throws a curveball in by talking about religion. As you might expect from someone who has worked with Ricky Gervais, McLoughlin lost his Catholic faith when he was young. But now he is getting older he is not so sure. He slowly but surely constructs a provocative riff suggesting that maybe there is a higher power pulling the strings. Perhaps the idea of a god isn't so fanciful after all.
If this makes him sound on the dry side he certainly isn't. He is playful and funny and has real jokes about everything from Cambridge Analytica to Alexa to working in Shoe Zone. The are wackier comics in Edinburgh, there are more surreal comics in Edinburgh. I'm not sure if there are that many comics in Edinburgh that will simply make you laugh from beginning to end like McLoughlin.
Until August 26. Info here.
Read an interview with Sean McLoughlin here.
****