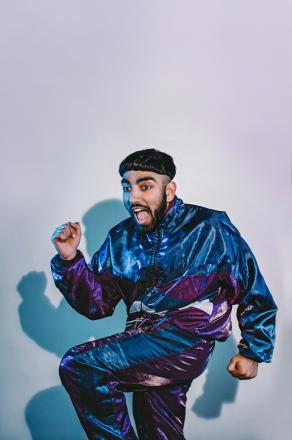 If you like socks, dancing and mango chutney Mawaan Rizwan's show is definitely the one for you. In fact even if you don't particularly like these things you will probably still get a lot out of his in-your-face feelgood show. He is one of those performers who is simply bursting with so much energy and charisma he is impossible to dislike.
The title Juice comes from his mum's saying that if life gives you mangos make mango juice. This was the mantra the sparkly track-suited Mawaan, whose biggest claim to fame to date is appearing on the BBC Asian Network and auditioning for Spongebob Squarepants, lived by long before he discovered, courtesy of Beyoncé, that the actual saying is about making lemonade from lemons. But then that's typical for Mawaan. He has a habit of doing things his own way. There aren't that many shows on the Fringe that combine stand-up with full-on songs and sweart dance routines.
He has some good stories to tell as well when he is not gyrating as if his very existence depended on it. The London-based Pakistan-born performer has clearly always been a bit of a show-off but through a weird set of circumstances he explains how he accidentally facilitated his mother going from teaching in Romford to becoming a Bollywood star by putting her in one of his online clips. Meanwhile his father and brother Nabhaan (who is soon to be seen in BBC One's Informer) have also got showbizzy careers almost by accident whereas Mawaan has been slogging away to realise his dream. 
The story of his mother's new-found fame is a very funny yarn, very well told and, to be honest, the rest of the show – as well as celebrating mangos and socks it's also about Missy Elliot, his therapist boyfriend and how you shouldn't repress your desires because you only have one life – doesn't quite match up to it. Except, that is, for his goofy opening song. Once you've heard the ridiculously infectious I've Got A New Walk Got A New Walk you won't be able to get it out of your head for the rest of the month. I've seen a new star seen a new star. 
Until August 27. Tickets here.
Read more Edinburgh Fringe reviews here.
Picture: Rebecca Need-Menear 
****