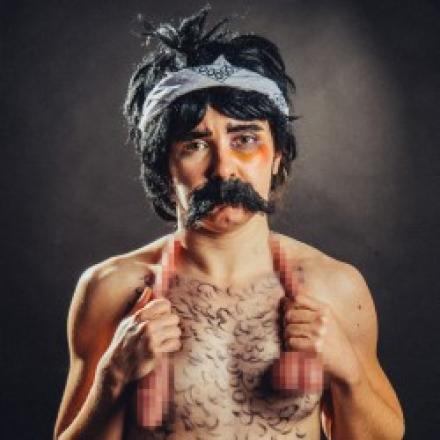 Natalie Palamides won the Edinburgh Comedy Award Best Newcomer Award for a show in which she hatched from an egg onstage and cooked food for everyone on a camping stove while performing. Follow that? She has with Nate, a challenging, provocative piece in which she looks at consent and being a man in the modern, post-#metoo world. Be warned, that's not a string of sausages around Palamides' neck, it's a "hard, stretchy cock".  
Natalie Palamides: Nate is at the Pleasance Courtyard from August 1 – 26. Tickets here.
1. What is the last thing you do before you go onstage (apart from check your flies and/or check your knickers aren't sticking out of your skirt and check for spinach between your teeth)?
Put an egg in my pants and try to run through the entire show in my head.
2. What irritates you?
People who only take and never give. We gotta give to each other, and help each other out in the world.
3. What is the most dangerous thing you have ever done?
Anything on wheels. I'm very uncoordinated. I've fallen off a hillside and a brick wall while riding a bicycle... for some reason, this hasn't stopped me from putting a two-wheeled vehicle into my show.
4. What is the most stupid thing you have ever done?
Drugs – one night of fun and years of having difficulty recalling my extensive voc... voc... vocrablurary?
5. What has surprised you the most during your career in comedy?
Winning Best Newcomer at the 2017 Edinburgh Fringe! I'll never forget it!
Interview continues here.