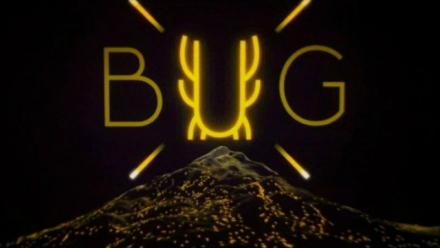 There was a post on Twitter suggesting that fans stormed the film tent where the World Cup Final was overrunning to demand that they turned the telly off and let Adam Buxton come on. I was there and while the show was a little delayed I don't remember a riot. Maybe just a few polite enquiries. Buxton fans - or should that be nerd army? – are far too well-behaved to kick-off about a late kick-off.
This special show marked the tenth birthday of Buxton's Bug events, in which he picks some of his favourite videos and highlights some of the more amusing YouTube comments below them, often putting on rather eccentric accents or outraged voices or shouting loudly whenever someone uses LOCKED CAPS. There were also songs from Buxton, clips of him doing some very funny dad dancing in a field and general bearded silliness. It was one of my favourite shows at Latitude this year.
Before I wrote this review I took a look at some of the Bug series on Sky Atlantic, which, as Buxton joked onstage, was not renewed for a second season because it was simply too good. While the TV version was good it is much better live, where Buxton is in his element. It is had to say exactly why, but the TV version just didn't hit the spot in the same way, even though Sky Atlantic kindly allowed him to swear when quoting comments, which is always part of the fun.
Some of the highlights at Latitude were videos from OK Go and Battles and the subsequent below-the-line discussions. Best of all was probably the frankly insane debate about what Planbuk meant - someone simply refused to accept that the singer was called Plan B and he was from the UK. Things quickly escalated.
Elsewhere Buxton introduced a Gregg Wallace Buttery Biscuit Base mash-up by Swede Mason that is still an ear worm now. And even better was Buxton's own increasingly sinister Counting Song, directed by the rather disturbing Cyriak, who other hallucinatory clips are some of the most deranged you will ever see. Here's to another decade of Bug lunacy.
Keep up with what Adam Buxton is up to here.