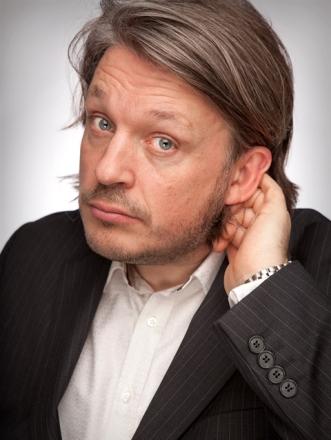 Richard Herring has teamed up with Car insurance provider Direct Line to make a series of podcasts, discussing 'Good Carma' (sic) on the roads with Direct Line's Head of Carma, Dr Gary Wood
The three-part series, which can be listened to on Spotify, iTunes and Google Play, explores karma on the roads and how the way drivers treat one another impacts their overall driving experience, with Herring recounting a run-in with a scaffolding lorry and being well and truly 'road miffed'. Herring and Dr Wood discuss the impact driving has on our day-to-day lives and our relationships at home, looking at how simple things like smiling at strangers can help us avoid "kicking the cat" and how finding the humour in a bad situation can help turn the experience into something positive.
The podcasts have been launched as part of the 'Good Carma' project, which celebrates Direct Line's policy changes which are  designed to make insurance fairer and easier for customers by ensuring that if their cars are damaged in certain scenarios*, they will not lose their No Claim Discount (NCD).
The measures are standard in Direct Line's comprehensive car insurance policies for new and existing customers and ensures that customers' NCD won't be affected if they make a claim due to;
Damage caused by potholes or poor road maintenance

Fire

Theft of or from the car

Being hit whilst parked

Flood

Hitting or being hit by a wild or domestic animal

Being hit by object or debris (excluding vehicles)
*Customers will still need to pay any applicable excess, which they can check in their policy schedule.
Dr Gary Wood, Head of Carma at Direct Line, commented: "Good karma is all about taking action to pass on something good. Working with the brilliant Richard Herring on the 'Good Carma' podcasts, it was great to raise a smile as well as awareness that it doesn't take much to make or break someone's day. It's a serious point made by poking fun at life's absurdities. Little random acts of kindness and courtesy can really make a difference."
Wendy Pearson, head of marketing at Direct Line added: "Podcasts are a wonderful way to explore and delve deep into topics that are of interest to the nation, and with an estimated 23 per cent of the UK population having listened to a Podcast in the last month, we felt it was the right way to get the people talking about 'Good Carma'. It's been great working with Dr Gary Wood and Richard Herring to get two very different perspectives on the theory of karma, from both a psychological and anecdotal perspective. We hope our listeners enjoy listening to the great chemistry between our hosts as we have."
You can find all three episodes here: https://bit.ly/2Ndplnb