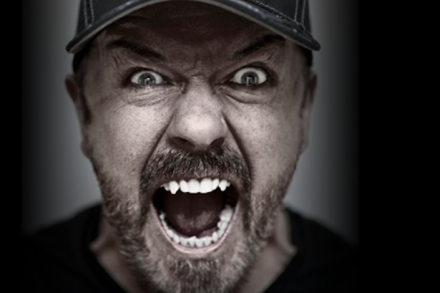 The cast has been revealed for the new Ricky Gervais series After Life which is being made for Netflix in the UK.
The line-up announced on the Deadline website includes Penelope Wilton, David Bradley, Ashley Jensen, Tom Basden, Tony Way, David Earl, Joe Wilkinson, Kerry Godliman, Mandeep Dhillon, Jo Hartley, Roisin Conaty and Diane Morgan.
A number of these performers have worked with Gervais before. Tom Basden, Mandeep Dhillon, Jo Hartley, Roisin Conaty and Diane Morgan all appeared in the movie David Brent: Life On The Road. Ashley Jensen co-starred in Extras. David Earl, Joe Wilkinson and Kerry Godliman appeared in Derek. Tony Way has worked with Gervais a number of times. He most notably played the catering chef in Extras who picked a hair out of Andy Millman's mashed potato, saying it was a dog hair and not a pubic hair.
Penelope Wilton will be familiar to older comedy fans as the co-star with the late Richard Briers of classic BBC sitcom Ever Decreasing Circles, a series that Gervais has spoken of fondly in the past. The series ran from 1984 to 1989 and when Richard Briers died in 2013 Gervais tweeted that he would let the BBC repeat The Office for free if they repeated the series that year.
In After Life the award-winning comic will star as Tony, who has the perfect life until his wife Lisa suddenly dies, After considering suicide Tony decides to punish the world for his wife's death by saying and doing whatever he likes from now on. He suddenly feels as if he has a super power — not caring about anyone — but things become complicated when everyone is trying to save the nice guy they once knew.
Gervais has written the series and will also executive produce and direct as well as star. Charlie Hanson, who has previously worked with Gervais on C4's Derek and BBC's Extras, will also executive produce.
Picture: Rich Hardcastle