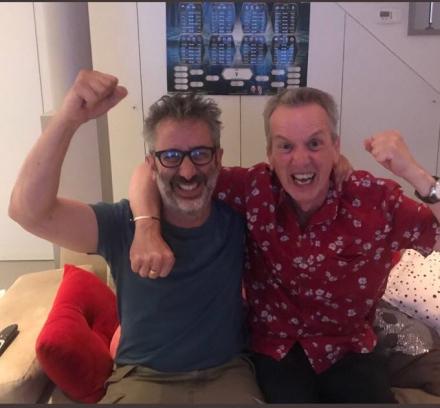 David Baddiel (pictured with Frank Skinner): "It's just about still coming home."
Russell Brand: "Welcome, millennials, welcome to supporting England. Here we go!!! #WorldCupENGCOL#ENG"
Tim Downie: "Fuck yes!!! We've won a penalty shoot out! I'm having a massive aneurism. #ENGCOL#EnglandvColombia"
London Hughes: "I've taken off my shoes and earrings in public and I'm screaming like a mad woman!!!! England why do you do this to me babes!!! #ENGCOL"
Russell Brand (again): "I'm naked. I'm crying. I just vomited a bit of tea. England. #WorldCup #ENGCOL#ENG"
Matt Edmondson: "Gareth Southgate leading an England team to a penalty victory 20 years after he missed 'that' goal is an M Night Shyamalan movie waiting to happen. #ENGCOL"
David Schneider: "Redemption! #ENGCOL"
Omid Djalili: "True hero #Pickford haven't even seen a replay of amazing save before Colombia scored #ENGCOL (but needs a translator in interview)"
Rufus Jones: "Pickford man. That save from long range. And the strong arm for the penalty. To think he was in doubt."
Jack Whitehall: "I cried. Slightly lost my shit. Then nearly passed out with a head rush. This is only the round of 16. God help us."
Lolly Adefope: "i have never missed a penalty in my life and i do NOT plan on starting now"
Lolly Adefope (again, shortly after previous tweet): "thank you and goodnight"
Picture: Twitter.
When is England v Sweden? Saturday, July 7, 3pm, BBC1.