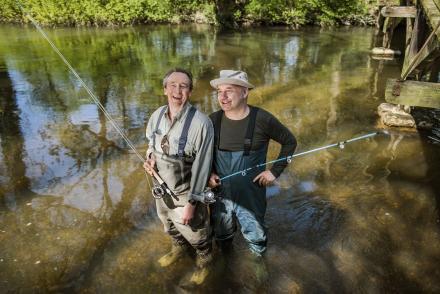 Let's be honest about this. If Gone Fishing did not feature comedy titans Bob Mortimer and Paul Whitehouse it would probably not be going out on BBC2 on a Wednesday evening. In fact if it was made at all without them it would be lucky to get an airing on  – insert obscure digital channel name here – in the afternoon. The languid pace, the beautiful scenery, two elderly men discussing their heart operations. This is afternoon telly catnip. Not so much The Fast Show as The Extremely Slow Show.
And as an evening programme it's not too bad either. Whitehouse - who had had heart issues himself - contacted his old chum Mortimer after his triple heart by pass in 2015. Mortimer had made a full recovery but had become a bit reclusive and lost in his own thoughts, reflecting on his own mortality. He recalls how his favourite egg cup started to upset him. Whitehouse suggested a spot of fishing therapy. From there a programme was spawned and each week the cameras follow them on their quest for the perfect catch. 
First up they are in Norfolk and after the elusive tench. Don't, whatever you do, mention The Trip. Even though this also features food and impressions they not in the same culinary or mimicry league – Bob knocks up beans in a tortilla wrap and does a De Niro impression, but as Whitehouse observes, the face is good but he spoils it when he speaks.
It does have the same naturalistic improvised feel as Coogan and Brydon's two-hander though, as these two old comic mates chat about nothing and everything. Every now and again they get serious. Bob explains that he misses cheese and biscuits and reveals his – quite dramatic – operation scar. Paul responds in the only way he can. By telling Bob he is circumcised.
There's lots of sitting around. By lakes, in a luxury yurt, by a campfire. They visit a brewery and Whitehouse pretends to be a copper ticking off Mortimer for drinking and then getting into his car. It's all, well, very gentle. In the end you find you are enjoying their company in the same way that they are enjoying each other's company. It's almost as if actually catching fish doesn't matter. And maybe it doesn't.  
Wednesdays from June 20, 10pm, BBC2.
Picture: BBC/Owl Power/Parisa Taghizadeh