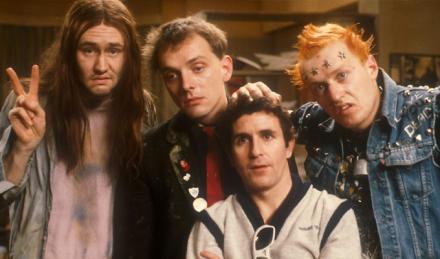 Is it really nearly 40 years since the Young Ones exploded onto BBC2 and gave British comedy a great big kick up the arse? I thought I knew a fair bit about the series, but this in-depth documentary sheds new light alongside retreading familiar ground.
Perhaps we need the background though as it is such a long time ago there are possibly some youthful comedy fans out there who don't know much about alternative comedy's roots in a Soho strip club. We get all of that, plus some really old archive footage of Rik Mayall and Ade Edmondson at Manchester University where they did "Beckett-y" clownish things.
When the story gets to the making of the Young Ones we really get some meaty info, well-told by the people involved – Edmondson, Nigel Planer, director Paul Jackson, Alexei Sayle, writer Lise Mayer. Strangely no Ben Elton, but the doc certainly sings his praises as a fast, talented writer.
I'd previously heard about Peter Richardson not appearing because of a falling out with Paul Jackson, but didn't know this was because Richardson had been left out of a previous show Jackson made, as is explained here (we don't get Richardson's version, sadly). I also didn't know that hangdog-faced Tim Spall was almost cast as wide boy Mike until it was decided he looked too much like Nigel Planer.
There's lots to enjoy here, from outtakes to gossip to glowing tributes to the show from the likes of Richard Herring, Nick Helm and Charlie Higson. The real shame is that Rik Mayall is not around, although we do see him recreating a very early script with Elton only a few years before his death. It's Mayall who is the absolute stand-out star of the clips. Every time he appears onscreen one is immediately hooked on him. Even when he is squeezing a spot in close-up.
Oh, did I mention there is also a story about a drunk Rowland Rivron showing his knob to The Good Life's Penelope Keith? In a way that's exactly what The Young Ones did to the sitcom establishment.
How The Young Ones Changed Comedy, Saturday, May 26, 9.30pm, Gold.