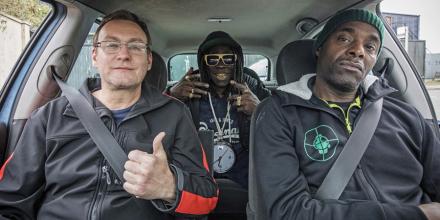 There is more of a sitcom feel to this latest Urban Myths instalment, which tells the true story of how in 2015 divorced dad Kev Wells gave a lift to Public Enemy in his Ford Focus so that they could get to their gig in time. 
Stressed out dad with a bad foot Kev (Philip Glenister) is on his way to pick up his son when he sees Chuck D and Flava Flav outside a record shop after a signing. Their tour bus has gone, the local cab firm refused to give them a lift because they thought it was a wind-up. Can Kev save the day?
It should be a simple trip of a few miles, but along the way, although it isn't exactly Trains, Planes and Automobiles, there are various hold ups. And when Kev does try to make up for lost time he gets a speeding ticket. He would've got a caution, the cop who stopped them says, if Flava Flav (Adbul Sallis) hadn't been jabbering on in the back all the time.
Flava Flav is very much the comedy irritant in this episode. Chuck D (Paterson Joseph) bonds with Kev because he also feels like a dad – except that his difficult offspring is a 50-year-old manchild with a giant clock around his neck who keeps saying "Yeah boy..."
Alongside the comedy there are some nice poignant touches. The band is not at the cutting edge any more and Chuck D knows it, but still has a strong belief in himself, offering Kev some sage advice "Stay focussed" and "Be prepared for holes in the terrain." The car-based pun and the reference to road works in Sheffield are presumably intentional. There's also a singalong that is such an obvious echo of a famous scene in Wayne's World it is surely intentional too. 
As they drive to the gig past rows and rows of identikit houses, maybe this episode, written by Neil Webster and directed by Ben Palmer, could be subtitled "Suburban Myths". One interesting touch - while other older stories in this series have relied on people's memories of events, Kev Wells has proof that this actually happened which viewers get to see – in the form of a smartphone picture of the hip hop legends squeezed into his car. Maybe in the future with so much being filmed there will no longer be urban myths, just urban facts.
Urban Myths – Public Enemy, Sky Arts, 9pm, Thursday, May 24. And available to Sky Subscribers now.