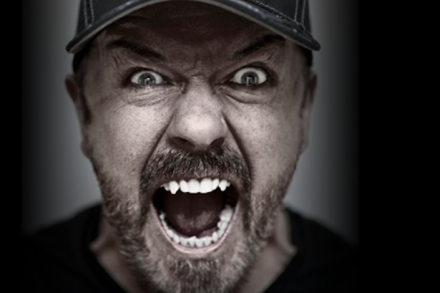 Update 27/4: Ricky Gervais has tweeted about his plans if you missed out on tickets today: "I'm going to try to squeeze in one last work in progress show for #SuperNature in June before I start filming my new Netflix series  #AfterLife. Then I'm out of commission for a couple of months. I'll be around in August to start where I left off though."
Tickets for the first work-in-progress shows for the next Ricky Gervais touring show sold out in seconds.
Websites for the Pleasance Theatre and The Arts Depot in London struggled to meet demand as fans logged on at 10am this morning for the three intimate tryouts of SuperNature on May 3rd, 10th & 14th. A current message on the Pleasance website says: "The system is currently very busy, you may browse but not buy currently. Please try later".
Fans who could get through were quickly wondering whether they stood any chance of getting tickets as the venues hold around 100 people and they were nearly 2000th in the queue.
Follow @rickygervais to be the first to find out more about tickets for more intimate gig going on sale.
Picture: Rich Hardcastle