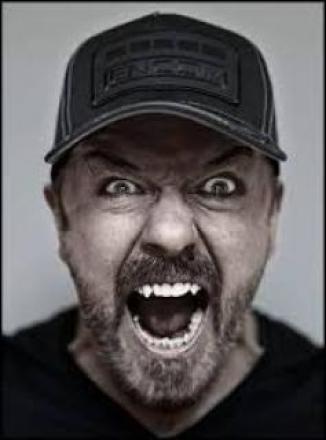 Update 20/4: Ricky Gervais has tweeted this: "First ever 'work in progress' shows for #SuperNature: Pleasance Theatre on May 3rd, & Finchley Arts Depot on May 10th & 14th. Tickets go on sale next Friday at 10am, & will sell out in 3 seconds. Don't travel from other countries for this event. It will be a fucking shambles " Tickets here.
Ricky Gervais has revealed that he plans to start doing work-in-progress gigs in May to road-test material for his next live show.
The comedian tweeted: "Tickets for my first ever 'work in progress' shows for #SuperNature in May will go on sale on Friday 27th. Stay tuned for details. Oh, and dear touts, don't fucking bother as we'll be checking IDs in such a tiny venue."
SuperNature "looks at the absurdity of superstition, magic and all unsubstantiated beliefs, and celebrates the conclusion that Nature is already Super enough. What's the most incredible fact you know?"
Gervais only finished his Humanity tour earlier this year, but has said that the show, which has been a huge commercial and critical success, has rekindled his enthusiasm for stand-up comedy, making him keen to do a follow-up show quickly. Humanity is currently streaming on Netflix and the network has already bought the rights to air his next show.
No venue details have been announced for his forthcoming warm-ups but Gervais has previously done work-in-progress shows at small London venues including the Arts Depot in Finchley and the Bloomsbury Theatre. Both are a short drive from his London home in Hampstead.
Follow @rickygervais to be the first to find out more about tickets going on sale.
Picture: Rich Hardcastle