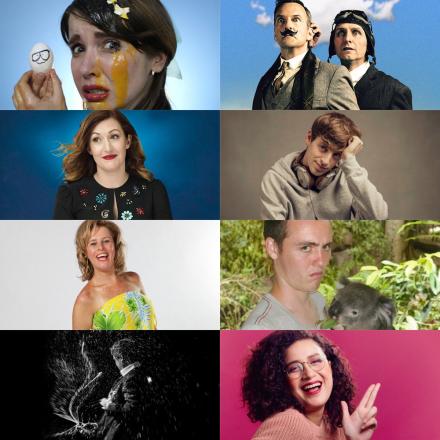 The Barry Award nominees at this year's Melbourne International Comedy Festival have been announced.
They are Natalie Palamides, Helen Bidou (Anne Edmonds), Tim Key, Celia Pacquola, Lano & Woodley, Alex Edelman, Sam Campbell and Rose Matafeo.
American comedian Alex Edelman will be taking his new show, Just For Us to the Edinburgh Fringe this summer.
Tim Key's Megadate has already been performed to great acclaim in the UK. Read a review here.
Natalie Palamides won the lastminute.com Edinburgh Comedy Award Best Newcomer for her show Laid in 2017. Read a review here.
Lano and Woodley are a veteran Australian knockabout double act who won the Perrier Award in Edinburgh in 1994 and have recently reunited after pursuing solo careers.
Kiwi comedian Rose Matafeo has been performing her new show Horndog in Melbourne.
Last year's Barry Award winner, Hannah Gadsby, went on to be joint winner of the Edinburgh Comedy Award for Best Show with John Robins (that's not the name of the show, it's who she shared the award with). 
Australian comedian Celia Pacquola's show is entitled All Talk. Sam Campbell's show is The Trough. Helen Biduo's show is Enter the Spinnaker Lounge - Bidou is the creation of comedian Anne Edmonds.
The nominees for the festival's Golden Gibbo award, which is given to  "a local, independent show that pursues the artist's idea more strongly than it pursues any commercial lure" have also been announced. They are Laura Frew & Michelle Brasier, Garry Starr, Cameron Venn, Julia Rorke & Elysia Hall and Sophie Joske & Anna Piper Scott.