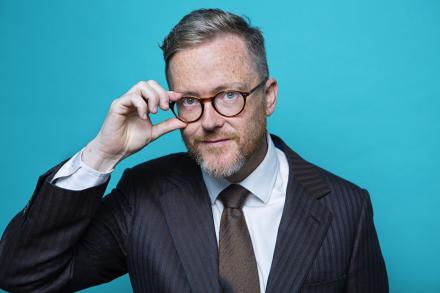 National digital radio station Union JACK has today announced the return of multi-award-winning broadcaster Geoff Lloyd to commercial radio, with his new show Hometown Glory launching at 11:00 on Saturday 3 March 2018 and bringing with it a host of famous faces.
The first season of Hometown Glory consists of six episodes, with a new show being broadcast each fortnight. Each show will also be available as a podcast. The initial run sees Lloyd welcome six celebrated comedians for an amusing trip down memory lane, as they take a virtual 'Google Maps' tour of their hometown, recalling tales of their childhood that will have listeners laughing out loud.  
Popular comedians Simon Evans, Shazia Mirza, Tom Allen, Matt Forde, Nick Helm and Richard Herring all star in the opening season, wearing their hearts on their sleeves with their hilarious tales of teenage angst, early sexual encounters and regional woes.
Speaking of his new show, Lloyd said: "I'm having a great time! It's basically time-travelling with comedians, without the inconvenience of having to invent a time machine. The Union JACK team are the best people in commercial radio, they're always up for trying something new, and, most importantly, they've said I can help myself to whatever I want from their stationery cupboard."
Union JACK launched just over a year ago and has made its name as a pioneering radio brand, playing exclusively British music and comedy, handing over the choice of music to its audience, and operating without a DJ at the helm. 
CEO Ian Walker commented: "Union JACK has unashamedly changed the way that British radio approaches its content, celebrating the very best that Britain has to offer and letting our audience decide what they want to listen to. Geoff Lloyd embodies all that our station stands for, with an incredible career that has kept the nation entertained for years, and a sense of humour that our listeners will love. Hometown Glory is innovative and entertaining, and like nothing else that is already out there - which is what we do best."
 Union JACK is quickly establishing itself as the home of new, rising British music and comedy, featuring shows such as Underdogs - a show dedicated to breaking new British music - and Andy Murray's 15-0 Songs, which features topical comedy, famous guests and steamy love songs, all hosted by Andy Murray* (*who might actually be impressionist Josh Berry). 
Union JACK is available across the UK on digital radio, online at unionjack.co.uk and via the Union JACK app.