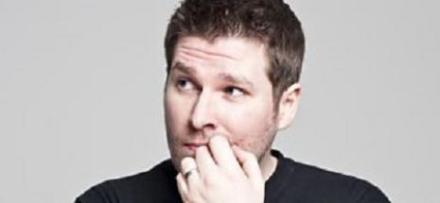 After the break Richard Gadd did a spot of what I guess some would call anti-comedy - subverting one-liner gag merchants with a succession of jokes where the punchline rug was repeatedly pulled. Throw in a winning personality, a doctored musical soundtrack with added relationship break-up commentary and you have a great taste of the kind of rule-breaking performances Gadd excels at. I'm not sure whether he is doing an old show or trying out new material in Glasgow but go and see him either way.
Canadian Chris Betts had an egaging sideways take on drinking culture that must have delighted the sponsors. Betts suggested that Scotch is the kind of drink that people like even if they don't like drinking - in fact, he suggested, even if it was a meat vegans would eat it. His best story was a surreal rumination on which finger is his favourite finger. Perhaps unsurprisingly this routine was inspired by taking some liquid LSD, which he had swapped for beer. His relaxed idiosyncratic manner won him plenty of new fans on the night. 
Skilful Irish comic Eleanor Tiernan kept the momentum going with strong material about the concept of throwing bouquet at weddings. She pointed out that it does't take much thought to see this as a bizarre ritual and found plenty of humour pursuing this theme. Tiernan has been around for a while now and has never quite built up a following outside Ireland. This short spot suggests that that could be about to change.
The show was closed by Scott Agnew, who may not have been the best known act on the bill but was certainly the tallest at 6 foot 5 inches. He said he was a bit worse for wear thanks to the Whyte and Mackay hospitality but it didn't seem to hinder his storytelling as he recalled telling his ex-footballer grandad that he was HIV positive. Inevitably his grandad took it well, and in fact when Agnew said he had to take a pill a day grandad told him how many he had to take and wrote Scott off as a lightweight. A fine ending to a fine festival preview. Roll on Glasgow. 
The Whyte & Mackay Glasgow Comedy Festival runs from March 8 - 25. Full listings and tickets here.
Pages