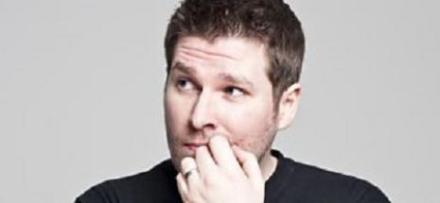 For strictly one night only the Whyte and Mackay Glasgow Comedy Festival came to London. Appropriately on Burns night. There was no haggis, but the audience did get a distinctive taste of what is in store for them if they head up to Scotland in March.
Mark Nelson (pictured) was the compere for the evening and kicked things off with a crowdpleasing routine which didn't spare the cliches – Scottish drinkers, Edinburgh v Glasgow, Megabus journeys from hell. It was just what the crowd – many of them Scottish exiles – needed to get in the spirit. Throw in another enjoyable riff about the existential despair of marriage and the evening had got off to a strong start.
First guest was Glaswegian Ashley Storrie, who online fans may well know for her brilliant pish-take of The Handmaid's Tale. Here she was in full potty mouth mode explaining how her parents (mum is comic Janey Godley) have to go all the way to Bath to have sex without their daughter walking in on them. Storrie also had an entertaining yarn about what she gets up to when they goes to Bath involving men and a life-size cutout of William Shatner, so if mum is reading this she may not leave the house to Storrie again. Let's just say I shall view Star Trek in a different light in the future.
Fin Taylor put the cat among the pigeons with a knowingly un-PC provocative set tackling recent harrassment scandals. He very cleverly set his own stall out by saying that as he was middle class and privately educated he clearly knew the difference between right and wrong and wasn't being offensive. One gag mentioning rape managed to be both sexist and racist simultanously yet somehow it was so outrageous he seemed to get away with his. Elsewhere he pulled off a similar trick with transphobia and paedophilia. Somehow I don't think he will be doing those ones on Live at the Apollo, but he is certainly a fresh voice whether you hate him or rate him.
Julia Sutherland mined some familiar territory about middle age. She is one of those leopardskin print mums at the school gates nobody else approves of - "less PTA, more G&T". Sutherland's marriage has recently ended but she has found the positive side - by having fun again. Her closing anecdote was that stand-up staple, being locked out of your hotel room naked. Not a particularly original premise, but Sutherland had enough flashes of originality – the word flashes is intentional – to keep the audience laughing.
The first half was closed by John Moloney, who will be up in Glasgow filming his TV series featuring comedians over fifty during the Festival He did the routine he will probably do up there, about his cat who had to be treated by the vet for stress. It is a superb peice of storytelling. He has been doing it for a while - probably since he was under fifty – and it gets better each time. What has his cat got to be stresssed about? he wondered. It sleeps for 23 hours a day. Moloney was probably the star of the night, bringing the house down simply by making the noise a cat makes when a vet sticks a thermometer up its bum. It was not just the noise though, it was the exquisite timing, which has probably taken him years to perfect.
Review continues here.