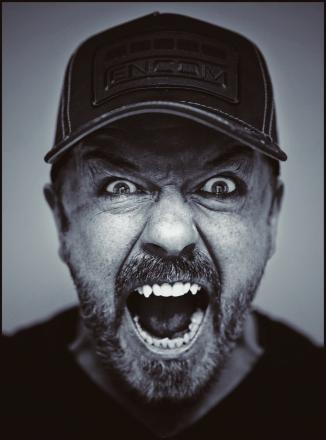 Ricky Gervais has confirmed the date that his latest live show Humanity will be released by Netflix. The show that will be streamed will be one of his performances at the Eventim Apollo in Hammersmith, London, where he had a three-week residency last autumn.
It will stream globally from March 13. Gervais announced the news during his appearance on The Late Show with Stephen Colbert. He was also chatting about his new American game show featuring children fronted by Fred Savage, entitled Child Support.
The Humanity tour has been his most successful live show to date. It has received wide acclaim, positive reviews and had been extended a number of times. He has now done 124 gigs with just a few more to go, including San Francisco, Seattle, Vancouver and Amsterdam.
It has been reported on social media that Netflix has paid $40 million for Ricky's next two stand-up shows. While this has not been officially announced by Netflix, Gervais has retweeted the tweet suggesting this figure.
During the interview the black-clad comedian also discussed putting on weight over Christmas and ageing. "If Donald Trump is healthy I'm healthy. He's like my canary down the mine."
Gervais first revealed that he would be filming the Humanity show for Netflix in an interview with the Evening Standard. He said: "Netflix is the perfect platform for me." He is also making his next comedy series for Netflix, entitled After Life. Read more about that here.
Watch Ricky Gervais on The Late Show with Steven Colbert below. He confirmed the release date at the end of the interview when Colbert asked him what people should do in the event of a nuclear attack. Gervais suggested they watch as much of his show as they had time for while masturbating.
Watch Humanity here (if you subscribe to netflix).
Picture: Rich Hardcastle