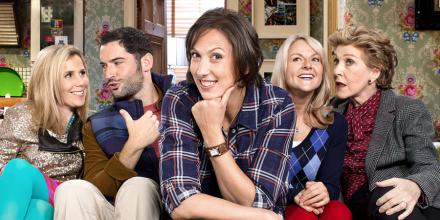 Miranda Hart has scotched rumours that she has signed up with the BBC to make more episodes of her hit sitcom Miranda (pictured).
The Sun has reported that the series will be coming back. 
A source said: "When it ended more than three years ago viewers were hopeful it would come back but it always looked unlikely because of Miranda's busy work schedule. But all parties have come to an agreement and it'll be back later this year if all goes to plan."
After The Sun's story appeared Hart tweeted overnight: "Don't know where this came from, it's news to me. Have thought about it but that's all. And how many times - wasn't ill was busy elsewhere." 
She later added: "To confirm re The Sun, I don't know where it came from that there's a new series of Miranda. I write & play her & she's still on honeymoon!"
And she has now followed up with: "Am glad people like the idea of us doing more. Gary and alter ego are still in the first flush, we need to give them some space!!"
Hart has, however, previously not ruled out the possibility of a return. Last year on BBC1's The One Show she explained that she had heard about actor Tom Ellis, who played her new husband Gary, talking about a potential series looking at their marriage. Hart was quite tickled by the idea. "That got me thinking...there's a thought there to explore the comedy of marriage and how that would work. I'm thinking about it, I don't know."
But at the moment it would appear that there is nothing definite.