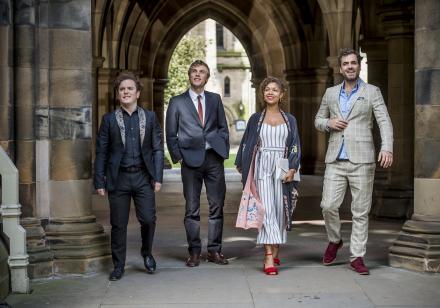 What's in a name? Scrotal Recall always felt more like the title of a Dapper Laughs DVD than a sensitive comedy about modern romance so Netflix has been canny – though some might also say prudish – renaming it Lovesick, having taken over the show from Channel 4. Whatever you call it, this third series finds the twentysomethings created by writer Tom Edge in pretty fine fettle.
This series picks up with Dylan (Johnny Flynn), Evie (Antonia Thomas) and Luke (Daniel Ings) still looking for love, though not necessarily in the right places. After a frank cafe chat between Dylan and Luke ("Finding love is all heartbreak, disappointment, and misery. Until it isn't," says Dylan) the action spools back twelve weeks. Evie is moving into Luke's flat and they all head off to a literary festival - not the sort of plotline you'd see in something called Scrotal Recall. 
They are joined by Josh Maguire's Angus, a kind of Tom Hollander comic figure with brillo pad hair who has divorced and got engaged in pretty quick succession. And Hannah Britland is back as Dylan's love interest – at the moment anyway? – Abigail. As the action kicks in Evie looks like she must come to terms with her feelings for Dylan as his relationship with Abigail gets more serious. 
It's all quite refreshingly sophisticated if never quite entirely original. A bit Cold Feet here. A bit Friends there. And the dialogue does not always ring true. The cafe chat between Dylan and Luke is far too emotionally honest for a couple of men - particularly Luke, who is so lacking in sensitivity and subtlety he tries to woo a woman in episode one by downloading a poem and pretending it is his own.
But there is something very watchable about Lovesick. A lot of this is probably down to Johnny Flynn, who has serious screen charisma and makes you want to watch him even when he not doing much. He also – fact fans – wrote and sang the theme tune to BBC4's Detectorists. Or as it would probably have been originally called if it went out on C4 – Two Blokes Who Spend Their Days Digging For Crap. 
Watch Lovesick on netflix.com.