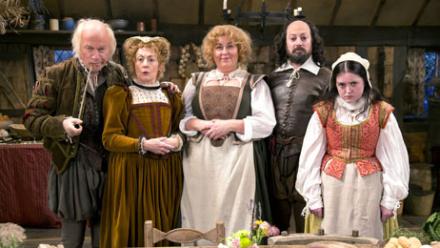 Upstart Crow is to return for a third series in 2018.
The BBC sitcom written by Ben Elton and starring David Mitchell as the bard will be filming new episodes in the New Year. Fans can apply for tickets below.
Ben Elton says: "I am so pleased that the BBC have decided to commission Upstart Crow Part 3. As Shakespeare himself proved with Henry IV, his very long play cycle about a not very interesting Henry,  if a thing's worth doing, it's worth doing thrice."
Before the new series there will be a one-off Christmas special on BBC2 on December 25 at 8.25pm. 
In the Christmas special Emma Thompson will appear as Queen Elizabeth. The Shakespeare's are planning a lovely cosy Christmas with just the family up in Stratford. Until Kit (Tim Downie) manages to wangle himself an invitation to join them. And then so does Kate (Gemma Whelan). And then so does Robert Green (Mark Heap), who claims he has given up evil scheming and is ready to spread peace and goodwill to all mankind. But has he really suddenly gone all nice?
Meanwhile Will (David Mitchell) has been rehearsing his latest play ready for it to be performed before Her Majesty Queen Elizabeth (Emma Thompson) as part of her Christmas festivities. But will he make the right impression on the Queen? And does his play Eighth Night actually need a bit more work?
The series will also see the return of regular co-stars Harry Enfield, Liza Tarbuck, Paula Wilcox, Helen Monks, Gemma Whelan, Rob Rouse, Tim Downie, Mark Heap, Dominic Coleman, Spencer Jones, Steve Speirs and Jocelyn Jee Esien.
Tickets for the filming of the new series will be allocated by random draw.
You can register at any time until 10pm on Thursday 4 January.
You can apply for a maximum of two tickets per recording and should you be successful in the random draw you will only receive tickets for one recording.
Dates:
Tuesday 23 January
Tuesday 30 January
Tuesday 6 February
Tuesday 13 February
Tuesday 20 February
Tuesday 27 February
Monday 5 March 
Venue: The London Studios
Doors open: 6.15pm
Recordings start: 7pm 
To enter the random draw visit bbc.co.uk/showsandtours. 

Read also: Second series of Back for Mitchell & Webb.