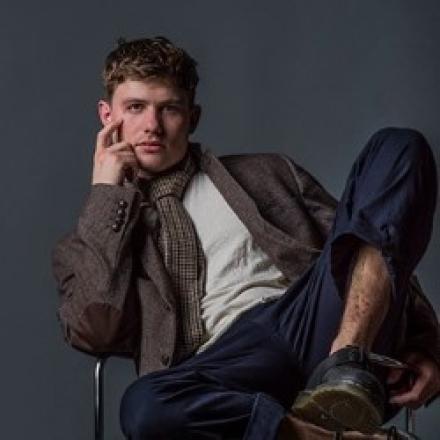 Update 9/4/18: Jon Pointing has joined the cast of Plebs as Jason.
Jon Pointing's Edinburgh show Act Natural was one of the underground hits of the Fringe this summer. And it may be about to go overgound with a run at the Soho Theatre. Pointing plays Cayden Hunter, an actor who will "demonstrate the importance of selflessness and sharing through this (non-participatory) workshop." The audience is his acting class as he offers them a lecture that is just a whisker away from feeling like a real lecture. It's the self-importance and David Brent-ian lack of self-awareness that adds the nuance that makes this so keenly funny. The show is produced by young company Fight in the Dog, co-founded by acclaimed writer and comic Liam Williams. The company has picked up the baton from the much-missed Invisible Dot and shown they have a knack for flushing out new and interesting talent. Fight in the Dog's motto is "Small Company. Big Shows." You could say Pointing's creation Cayden Hunter should have a somewhat different motto: "Small Talent, Big Ego." 
1. What is the last thing you do before you go onstage (apart from check your flies and/or check your knickers aren't sticking out of your skirt and check for spinach between your teeth)?
I jump up in the air as high as I can and then land on all fours like Catwoman.
2. What irritates you?
David Attenborough is really starting to grate on me. 
3. What is the most dangerous thing you have ever done?
I once sprinted towards a herd of horses.
4. What is the most stupid thing you have ever done?
Most recent. I skipped without a skipping rope, for ages. 
5. What has surprised you the most during your career in comedy?
The admin.
Interview continues here.