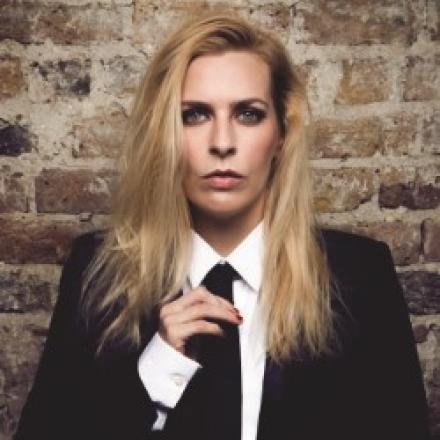 "Hello, I am your scumbag for the evening." Skilful compere Kiri Pritchard-McLean set the tone for this gig with her very first salvo. For comedians used to dodging the heckles and inflatable cocks at stag and hen dos on a Saturday night this new monthly gig must be a delight. It takes place in a private school in Dulwich in a state-of-the-art theatre that puts a lot of Fringe venues to shame. The audience is receptive and polite, though luckily not too polite to laugh in all the right places.
First up was Tez Ilyas who also picked up on the class theme, comparing the school to his local comp in Blackburn where there were "no music teachers and two race riots." Ilyas seems to have done OK though, he gave up a career in the civil service to do stand-up and his career is building a good head of steam. He deserves it too with his mix of politics and relatable humour. Routines about Secret Santa and the idea of a Muslim Father Christmas had bite to them and he was good on Brexit too, even if he did give out mixed signals by being very much Remain but wearing a Corbyn T-shirt.
I was slightly anxious about second act Jordan Brookes. I raved about his show in Edinburgh this summer where he picked up an Edinburgh Comedy Award nomination but I had also heard about him dying on his proverbial arse in comedy clubs. Not that he was ever going to be given a rough time here but I thought his brand of rug-pulling, format-bending, performance arty, sometimes grotesque physical humour might get the silent treatment. In fact give or take the odd confused folded arms he went down remarkably well.
After the break and a wince-making story about a D-I-Y Brazilian from Pritchard-McLean Sara Pascoe was the headline act. Pascoe has a big West End run coming up so I won't say too much about her set here, which weaved together new material and some of the highlights of her current show, LadsLadsLads, and its tales of fantasist Uber drivers, being adventurous and self-acceptance. Needless to say after hearing her anecdote about a post-break-up visit to Paris the French city will never seem quite as romantic again.
These gigs are produced by Ben Williams, the former Comedy Editor of Time Out, so he knows how to put a strong bill together and has some excellent names in his contacts book. It is a very different vibe to your average comedy gig. If your idea of a night out is wall-to-wall knob gags this may not be for you – although Pritchard-McLean did deliver a couple just in case there were a few knob fans in. But if you like your comedy to make you think as well as laugh then this is definitely a welcome addition to the stand-up world.
The next Plosive comedy night is headlined by Reg Hunter and is on December 2. Tickets here. Sara Pascoe is at Wyndham's Theatre from January 15 - 20. Buy tickets here.