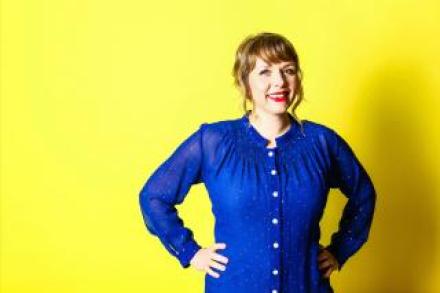 This review first appeared in the London Evening Standard here.
Kerry Godliman is currently on tour. Buy tickets here.
Kerry Godliman can currently be seen in ITV1 series Bad Move, but a better move for comedy fans would be to catch this affable performer on stage. Her new show, Stick Or Twist, finds her on exquisitely crowd-pleasing form.
The theme is not a million miles from her escape-to-the-country sitcom premise. The fortysomething mum, pictured, is wondering whether to leave London. Having seen her area become gentrified she jokes that she could sell up and buy Hull with the proceeds.
Gags about the ubiquity of sourdough, yoga classes and emojis may be low-hanging fruit, but her set is also peppered with beautiful bon mots. On the rise of hipster restaurants she confesses that "I've had soup out of a bedpan".
A highlight is her account of visiting Los Angeles, prompting some sublime culture clash material. The outstanding riff recalls her attempts to purchase a non-sexy bra there, the sales assistant almost combusting with confusion,
Whether discussing the stresses of parenthood or buying Buddhas from garden centres, laughs of recognition pinged around the room. At the start Godliman joked: "If it goes well I might get an Uber." She deserves to be travelling home in a limo.