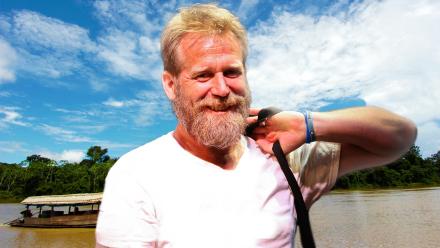 Fearless adventurer Tony Law leads an intrepid team attempting to recover the Lost Girdle of the Amazons. 
Tony Law is a celebrity explorer, in the mould of Sir Ranulph Fiennes. Several years ago, he wrote a book about his adventures which, combined with the proceeds from a handful of specially funded expeditions, has bankrolled his operation ever since. He's a big fan of razzle-dazzle and derring do, a man who wants to be perceived as a hero.
As a young man, Tony discovered the stories surrounding his great-grandfather, Anton Lawless, and his grandfather, Antonio Lawless. The Lawless family were renowned explorers, but Tony's accountant father was ashamed of the family's unorthodox past, changed the family name to Law (no-one wants an accountant called Lawless), moved to Canada and hid the family history from the young Tony.
Tony's discovery of his grandfather's past gave his life a sudden purpose and spurred him on to follow in Anton and Antonio's footsteps. And, if possible, outdo them. Tony both stars in and narrates the show, in which he is joined by a set of adventurers he has employed to help him on his various quests.
The team comprises Martha (Adjoa Andoh), a survival expert; Janet (Nina Wadia), the 40-something Botanist who's just got out of an awful marriage and finally decided to put her Open University Floral Biology degree to good use; Alan (John-Luke Roberts), the group's transport officer and an old-fashioned right-winger who is delighted to have a shot at (what he sees as) rebuilding the British Empire.

Written by Gareth Gwynn and John-Luke Roberts. Produced by Lyndsay Fenner.
Sunday, October 29, 7.15pm, Radio 4.
Picture by Lyndsay Fenner.