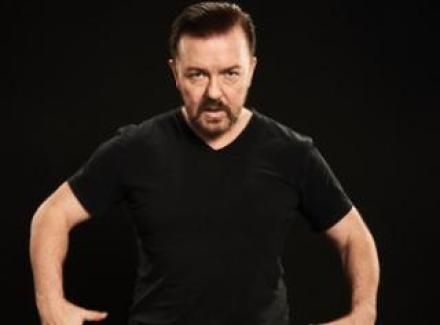 Over £200,000 has been raised so far for good causes from UK Platinum Ticket sales alone of Ricky Gervais's 120-date worldwide tour, Humanity. This figure will be split equally between the RSPCA and Macmillan Cancer Support.
In an effort to take action against ticket touts, Platinum Tickets for Ricky Gervais's Humanity tour went on sale to guarantee premium seats at market rates, with the extra profits from these ticket sales going to worthwhile causes.
On the thousands of pounds raised to date for charities through these Platinum Ticket sales in the UK, Ricky Gervais said: "This scheme is taking back the thousands of pounds ticket touts make every year by giving this money to good causes instead, including great charities like the RSPCA and Macmillan Cancer Support here in the UK. It's such a privilege that people will pay money to come and watch me perform stand-up, and I hope that fans across the world continue to recognise the positive impact that buying Platinum Tickets has on worthwhile causes."  
Lynda Thomas, Chief Executive of Macmillan Cancer Support, said: "Ricky is a fantastic supporter of Macmillan. He continues to showcase his humility by donating his time and tickets, as well as helping spread the word about our campaigns, helping ensure that Macmillan can reach even more people living with cancer. I'd like to extend my thanks personally and from everyone at Macmillan Cancer Support for this donation from his Humanity tour." 
Chris Wainwright, RSPCA Deputy Chief Executive, said: "We are so grateful to Ricky for this donation and for being such a fantastic supporter and friend to animals. He has made a huge difference in highlighting animal welfare issues and drumming up public support for change. His generosity will help us to continue our critical work investigating cruelty as well as rescuing and rehabilitating animals."
2017 and 2018 mark the British comic's return to his first love of stand-up comedy on an international stage, with Gervais taking his latest show Humanity on a 120-date worldwide tour. Gervais recently completed a three-week sold out run at London's Eventim Apollo and is set to play further dates across the UK, Germany, Canada and USA, including three-nights at Los Angeles's Dolby Theatre later this month. 
Buy tickets for the remaining Humanity shows here.