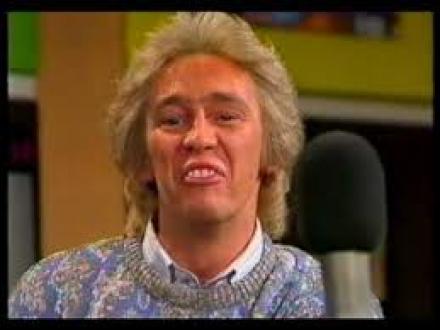 The UK's most fantabulous DJ and one half of everyone's favourite fab radio duo, Mike Smash (Paul Whitehouse) takes time out from his charity work and returns to TV screens this Christmas with his ding-dong-merrily-on-high-iest festive favourite tunes. Smashie's Xmastastic Playlist is a new UKTV Original that will air across two days in December 2017.
Simulcast between Gold and Smash's new broadcasting home Radio Hush, this two-part special will feature the nation's best-loved Christmas classics, alongside some lesser known oddities from Smashie's sonic stocking – and all will be introduced by the former Radio Fab FM DJ in his unique style.
Smashie's Xmastastic Playlist is written by Paul Whitehouse and Dave Cummings. The two-part special is ordered for UKTV by Richard Watsham, director of commissioning, and Steve North, general manager for entertainment and comedy. Commissioned by Joe McVey, it's produced by North One, John Quinn is executive producer and the director is Sean Doherty.
Joe McVey, commissioning editor for UKTV, said, "It is quite liderally an honour to work with the legendary DJ Mike Smash on his Christmas playlist. In an historic first we're teaming up with the Solent area's premium radio station marketed at fans of late era glam rock, Hush FM, for a live simulcast on Gold. We can't wait to see what appears on Mike's playlist, though I'm sure our viewers will be able to have a reasonable stab at guessing."
Steve North said, "In its 25th year, Gold has gone from strength to strength and continues to attract some fantastic talent. We're really excited to end 2017 on a high by working with Paul on bringing back one of UK comedy's most iconic characters."
John Quinn said, "For many of us, some of the rosiest Christmas Day memories from childhood were those old Top Of The Pops specials, played out during the build-up to a turkey dinner. Who better to recapture the essence of that classic festive experience – and its actual, often cringing embarrassment – than Mike Smash himself. Who doesn't love Smashie?" 
Watch a trailer below.