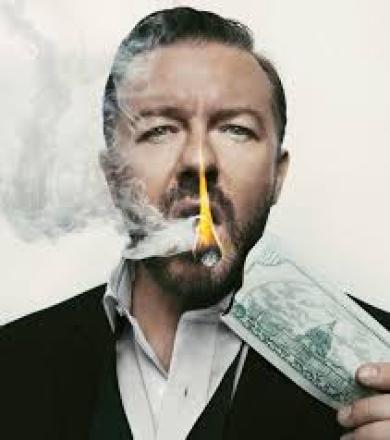 Ricky Gervais is to launch a new show exclusively on SiriusXM after closing a deal which makes him the highest paid UK presenter on radio anywhere in the world. "Ricky Gervais Is Deadly Sirius" will premiere on October 24 at 11:00 a.m. ET. The one-hour show will air weekly on Comedy Greats channel 94. For non-subscribers around the world the series will also be on iTunes as a podcast and as well as YouTube.  
Gervais said: "I started out in radio, and Sirius made me an offer I couldn't refuse to return. With 32 million subscribers, editorial control, my own playlist and absolute freedom of speech, it's the perfect platform for me, and hopefully the listener too." 
"Ricky Gervais is undoubtedly one of the most uniquely talented comedians in the game," said Scott Greenstein, President and Chief Content Officer, SiriusXM. "Whether he's starring in a beloved television show, delivering raucous stand-up before a crowd of 20,000, or skewering celebrities at an awards show, the bottom line is that Ricky is a compelling performer whose legion of fans is only growing. We're ecstatic that he's bringing those many talents to SiriusXM, where he'll tackle some of life's big mysteries, while he charms and enlightens our more than 32 million subscribers nationwide."
Ricky Gervais launched his entertainment career as a London-based radio host at Xfm, honing his interview skills and sharing his love of music. Now one of the world's most popular and charismatic comedians will return to his roots and join SiriusXM, tackling more "sirius" topics with some of the most respected experts in their fields. Whether it's a conversation with scientist and author Richard Dawkins about religion and the afterlife, or rocker Noel Gallagher on hijinks with his bandmates and his musical influences, Gervais will have thought-provoking discussions about the topics he feels the most passionate about, namely music, science, art, and ethics.
Gervais has won seven BAFTA awards, three Golden Globe Awards, and two Emmy Awards, solidifying his position as one of the biggest names in comedy. Along the way he amassed a passionate fan base, including a large social media presence that comprises more than 12.8 million Twitter followers.
His fans can now get a weekly dose of Ricky on Comedy Greats channel 94, as well as via SiriusXM On Demand, through the SiriusXM app on smartphones and other connected devices, as well as online at www.siriusxm.com/player. SiriusXM also recently announced that its 200+ channels, including Comedy Greats, are now also available for streaming to SiriusXM subscribers nationwide with Amazon Alexa.
Go to www.SiriusXM.com/AmazonAlexa to learn more.