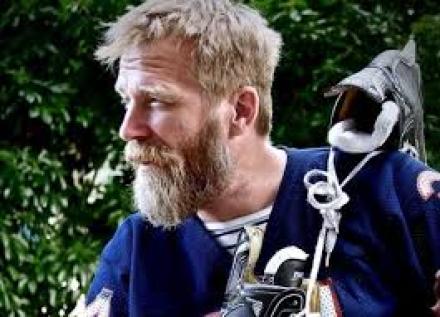 Wearing shorts, kneepads and an ice hockey top, Tony Law is muscular, masculine and hilarious in a role that brings a whole new physical element to his comedy.
The bearded Canadian comic swoops, swaggers and glides around the Alexandra Palace Ice Rink giving the impression of a man whose dream of a musical comedy on ice has finally come true.
Adam Larter, creator of the Weirdos Pantomime, has assembled a stellar cast of comics for this epic drama built around Law as the singing, dancing ice skating hero.
Hardly any of the supporting cast can actually skate, which makes Law seem even more of a superman while bringing a whole new level of jeopardy to the action.
At one point Joz Norris, wearing a giant moose head, takes a painful looking topple across the ice but thankfully there are no major catastrophes.
Comics including Marny Godden, Elf Lyons and Ali Brice gamely battle with ungainly costumes and risk life and limb to bring this wildly ambitious one-off spectacular to life.
The plot is eccentric, endearing and absurd.  Law is cast as a rumbunctious teenage boy whose amazing ice skating makes him the hero of Icetopia. Brought down by a fiendish plot engineered by Josef Stalin and Donald Trump, he is cast out of his native land and must find a way to come back and defeat the baddies.
Law brings all his blustering overblown energy to the role, and commands the rink, even when he is crumpled alone and afraid. The way he uses his body to express emotion is astonishing and he is unfailingly funny, bringing a laugh with every graceful and exaggerated movement and making the most of every gag.
Larter has stuck to pantomime conventions, having the cast address the audience as "boys and girls" and encouraging them to whoop and boo the action. It's a naive style, which sometimes jars but it does give free reign to his childlike imagination.
There are musical numbers, there are dazzling displays from young pro skaters Emma Moore, Yasmin Tilly and Anastasia Vinnikova. There are fights, dances and thrilling chases across the ice.  Tony Law's real life children, (eight year old twins) appear wearing bear suits. And the ludicrous array of characters gives the supporting cast the opportunity to clown their socks off. 
Elf Lyons, tottering on the ice, is the embodiment of awkard as a misunderstood maths teacher who lives in the clouds and who mentors Tony Law when he is cast out of Icetopia.
Michael Brunstrom brings his own peculiar pathos to his role as Tony Law's father - a wolf who wants young Tony to go to University on a skating scholarship.
The villains of the piece are Josef Stalin, played with insane relish in red satin tights by Ali Brice and Donald Trump, impersonated excellently by Matthew Highton. The Trump character also has Genesis drummer Phil Collins growing out of his shoulder.
Associate producer Bob Slayer is a revelation as an evil cheese grater who is on a mission to  rough up the ice. Slayer channels his full beserker heavy metal energy into the role, making it genuinely menacing and very funny.
In such an offbeat fantastical universe some of the characters have very earthly obsessions.  Ben Target plays a lawyer, who repeatedly and vainly tries to solve problems through law.  Eleanor Morton, as a fish with an American accent, is obsessed with employment rights, while Helen Duff, dressed in shimmering pink, and described as a Feminazi, is well meaning but perpetually angry.
Marny Godden plays Tony Law's polar bear love interest, Kat Bond is gleefully nasty as a grumpy old woman. Matt Tedford, looking very shaky on the ice, plays Michael Brunstrom's very sweet gay husband.
There is a lot going on and it's not always terribly clear what the satirical targets are. But the cast work generously with each other and with so much comic talent on a single ice rink there is plenty of scripted and unscripted laughter.
The whole enterprise, produced by Alex Hardy and written and directed by Adam Larter has a wonderful "We can't believe we are doing this" atmosphere. It is a glorious triumph of collaborative effort.
The evening ends with an ice disco when the audience can grab their own skates and join Tony Law, bears, schoolteachers, dictators and all, for a celebratory swoop around the rink in this People's Palace high on a hill in London under the twinkling stars. 
Magical.