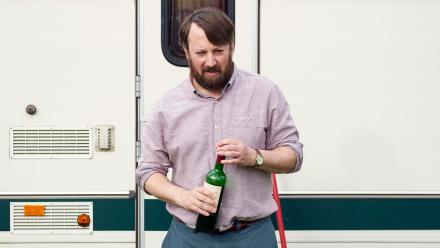 When writer Simon Blackwell's new series starring David Mitchell and Robert Webb was launched last month publications were sent an episode-by-episode breakdown. But shortly afterwards we were asked not to publish it as it was felt it would give too much away in advance. Having now seen the second episode I think I can see why. 
While last week's opener did have a whiff of Peep Show – The Wellman Years about it the story edges closes to comedy-mystery-drama this week as the Nicholls family gathers to discover what is in the dead dad's will and then has to find a way out of a financial hole.
The mystery element comes from the presence of charmer Andrew (Robert Webb). Was he really fostered, wonders Stephen (David Mitchell) or is there something more sinister to his sudden appearance on the scene and the way he is worming himself into the Nichols family's affections.
Andrew certainly seems to do everything right. When Stephen suggests a boring static caravan business to boost their income  – "welcome to the goldmine" – Andrew promptly trumps him with a sexier food festival in their pub's back garden, complete with Ferris Wheel - cue conflicting memories of days out at the fair with their dad (Matthew Holness).
There are still occasional Peep Show echoes – when there is some awkward hand-touching sexual tension in the pub one immediately expects a vocalised interior monologue from Stephen (and actually what he says out loud when alone after the incident is very Peep Show and you can barely see his lips move). But I can definitely see this moving away as the series progresses. But then I've seen all the episode breakdowns…
Needless to say just keep watching.
Back, C4, Wednesdays, 10pm.