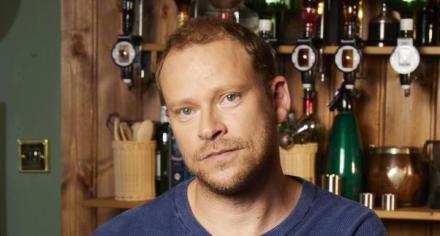 What is Back about and who do you play?
Stephen, played by David has inherited a pub from his recently dead father. His mum and dad used to foster lots of children when he was a kid and Stephen resented that. I play Andrew, who was one of the foster kids who found that time very important to him. It was the best time of his life when he was a teenager being fostered by this family. Then he went out into the world and he's lived in lots of different countries and done lots of cool things. He comes back, and is pretty suave and knowledgeable about various cool things, so he's Stephen's worst nightmare. They meet at Stephen's late father's funeral.
The series is the story of Andrew invading his way into the affections of Stephen's family and basically taking over the pub. Stephen becomes paranoid that Andrew is out to get him and take over his life and make sure Stephen is deeply miserable. We get more information as the series goes on about Andrew's motivation and why he is doing this but as far as episode 1 goes it looks like he is either a dangerous people pleaser who will put people's lives in danger in order to get approval, or he's that plus an implacable streak of malice and he may well be the devil—so we don't really know.
It's been interesting for me to play someone who is a) intelligent and slightly cool, but cool in a different way to Jez and much cleverer and emotionally intelligent and b) someone who might be genuinely a nasty piece of work. I've been giving two performances at the same time because there's something very ambiguous about Andrew we don't quite know what he's up to and that's been a great pleasure to play.
Presumably it's been a balancing act; you don't want to fall down too much on one side or the other because you want to keep the audience guessing to his motivations?
Exactly, we want to find out whether or not he is a baddie or whether he's just this damaged person. It's been interesting like that. Once we were happy with a scene we would do the evil take or the innocent take. He might just be a really nice guy who does want to come back to this place because that's the only place he's ever felt rooted or it might be he's got a much more sinister agenda.
Tell me a bit about the project came about?
Me and David have a relationship with Big Talk, they made Ambassadors, and they knew we were shortly to be living in a post Peep Show world. I'm going back about 3 years now. We thought if there is going to be another Mitchell and Webb sitcom, who's going to write it? We had a shortlist of one name—Simon Blackwell—because we love Simon. He's written a few episodes of Peep Show, he's brilliant, and one of the nicest blokes you'll ever meet. So it was a question of tracking down Simon and making sure he had some space in his busy writing life to develop this, which we slowly did.
He came up with the idea and a bit later on we got a commission. Simon did the pilot on his own and it was non-broadcast, and you always learn from those. Then there were a few enjoyable days where me, David, Simon and a couple of other writers in the room were knocking around stories. This was after the pilot. We were really pleased we got to do it properly like that. There were some ideas in that room and Simon went away on his own. It was 99% Simon and he came back with 6 brilliant scripts. We shot them, stood in the right place most of the time, and this is the series!
I've seen rough cuts of all 6 now and I couldn't be happier, I'm really pleased. At the back of our minds, we wanted to make it look and feel different from Peep Show. The characters are different and the setting is rural. It's got a much more, dare I say it, a Brexit feel about it, as there are issues going on about what's real and what's fake and people's attitudes to change and keeping things the way they are. On the other hand, it has that Channel 4 sensibility, it's pretty rude just like Peep Show and of course it has me and David in it. It's a different thing with similarities.
Does it help working with a writer who you've worked with before? Does it make it easier for you to understand his vision and bring it to life?
A little bit, yes. Simon wrote a least 2 if not 3 episodes of Peep Show. Back is completely his own creation but he also has that technical skill, which not every writer has, of slipping into someone else's work. Simon knew what to do with Mark and Jeremy immediately because Sam and Jesse had established those characters so brilliantly, so we just felt we were in terrifically safe hands. Me, David and Simon did talk about Andrew and Stephen, and their characters evolved as the three years went by. It's great working with him, he's one of our best comedy writers.
Why do you think you and David work so well together? Why has your professional relationship endured so well?
To go back to the start, we just laughed at the same things and we made each other laugh. Then when writing we found we came from slightly different angles but not much, there was a lot more overlap than Peep Show would suggest. The sketch show is the better model you can see we really agree about loads. Also starting out on stage in fringe theatre at Edinburgh and rooms above pubs in London, you work with someone and there's complicity there. Something about what happens when me and he get together that I know what he's doing when he's standing on the stage without looking at him. I just get this feeling of familiarity. We always say that we are greater than some of our parts; something comes together in a good way. I haven't really made anything since the final series of Peep Show which was 2 years ago so it was great to be in front of a camera with him again.
We've established that it takes place in a different world from Peep Show but David is playing an emotionally constipated loser and you're playing an amoral character. Do you think the script writers are trying to tell you both something?
In the case of Peep Show, I think they saw something in us that was sufficiently part of us, that it would be weird if we played them the other way around. Then again, I would emphasise that Andrew is considerably smarter than Jez. Jez could be caught every now and then doing the right thing, Jez didn't mind acting like a petulant, sarcastic child almost all the time, whereas Andrew always seems to be doing the right thing.
I'm not sure that I would buy that they are both amoral. I think Jeremy was immoral; he was actively doing bad things quite often, whereas Andrew is trying to be seen to be nice but he has a detached view and strange relationship with right and wrong. I think he just wants a lot of people to like him. He walks into a room and expects people to be pleased that he's there and he doesn't get it that Stephen isn't buying this and that's one of the motivations. That's what I'm thinking when I'm playing him anyway.
The show has got a great supporting cast, as executive producers were you involved in the casting process?
Yes, we were involved. I wouldn't say heavily involved and I wouldn't say we necessarily had any veto but we got to work with people that we like.
Is it enjoyable being part of the production process?
We had an additional material credit on Peep Show, we were always there with Sam and Jesse. There would always be a meeting before they started writing the series about what might happen over the course of the 6 episodes and David and I would chip in ideas. So it's not new really, we've always been involved, but we have an official credit these days. We have always been part of that process. I emphasise that it's written by the writers but we've always been part of it.
The series features frequent flashbacks to the 80's to Andrew and Stephen's childhood. Did you enjoy watching the younger actors playing the childhood versions of yourselves?
Yes they were terrific, they were really good. Caius Luckyn-Malone who plays young Andrew and Sebastian Patterson who plays young Stephen were both terrific. It's kind of hard for me as I'm 44, and you go, 'Look there's this nice looking young man and now we go back to this guy with stubble!' But they were both outstandingly good and Ben the director has been really clever with the cuts and flashbacks.
Interview supplied by C4. Read a preview of the first episode of Back here.
Read an interview with David Mitchell here.
Read an interview with writer Simon Blackwell here.