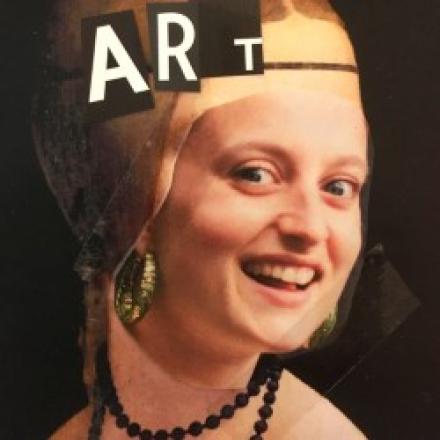 Musical comedian Harriet Braine begins with a bold and risky swipe at Scotland's favourite tea towel artist Charles Rennie Mackintosh.
To the tune of Natalie Imbruglia's Torn she tears into the popular perception of the darling of Scottish art. Scots may love him now, she says, but they weren't all that keen on him when he actually lived here.
Braine's brilliantly inventive songs steal the melodies of well-known pop songs and turn them into little subversive vignettes about the history of art. Frida Kahlo's relationship with Diego Rivera, the commercial exploitation of Hokusai's Great Wave and the philosophy of the Bauhaus all inspire songs, with tunes borrowed from Kate Bush, Burt Bacharach and The Cure.
Her original lyrics are tremendous, capturing both a love of art and a willingness to question convention. Was Leonardo da Vinci really a woman? Why can nobody tell the difference between Monet and Manet? And what on earth is really going on in the Hieronymus Bosch painting The Garden of Earthly Delights?
Musical art history is, she admits, a rather niche area of comedy. But it has given Harriet Braine an extraordinarily rich source of subject matter. You don't have to know about art to appreciate the joke - in fact you may even accidentally learn something about art and artists while you're here.
Braine is a gifted musical chameleon, swapping effortlessly between styles and accompanying herself beautifully on the guitar.
It's a shame the spoken introductions to her songs are so low key. Braine slips in and out of a half-hearted impersonation of an art history lecturer, switching confusingly between affected bossiness and her own natural self-effacing shyness.   
A more confident delivery might earn her a few more laughs but her songs are delightful, smart, bubbling with wit and full of passionate insight into a wonderful world she clearly knows a great deal about.
Harriet Braine: Total Eclipse of the Art is at Laughing Horse @ The Golf Tavern until August 27. Info here.
***