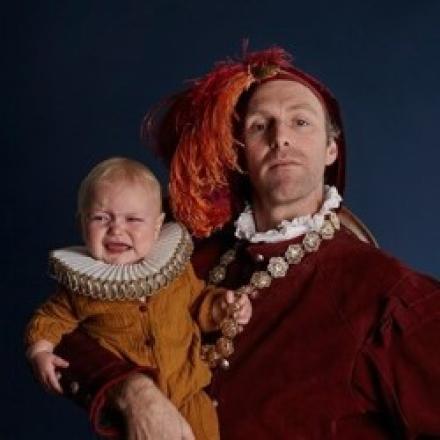 Inspired comedy or child exploitation? For his latest show award-winning Kiwi physical comedian Trygve Wakenshaw has formed a double act with his 13-month-old son Phineas. Someone suggested to me that it was a bit cruel because Phineas didn't really have any say in the matter. I can't see the problem. He certainly seems to be having a good time. As does the audience. 
There is a big dollop of Cute Factor here of course. Phineas isn't really a performer, his father just gently – and skilfully – coaxes him into position so that when dad plays a bull the tiny toreador naturally stabs him with a toy sword. 
But maybe there is a bit of a performing gene in there too. The blond-haired co-star certainly isn't in awe of the audience and seems to milk applause, walking to the front of the stage to wring out a few extra oohs and aaahs. It seems very instinctive as well as very charming.
If anything the problem is that the double act is so successful some of Trygve's sketches before Phineas puts in an appearance – an overlong vampire routine, for example – feel a little lightweight. But you don't usually have to wait long for the junior partner in the act to walk on from the wings and steal the scene dressed as a lion or playing Hamlet. Not that he knows he's dressed as a lion or doing the "alas poor Yorick" monologue. 
So yes, you could argue that there is some exploitation going on. But it is not Phineas being exploited, it is the audience's spontaneous love of small children scampering around the stage having the time of their life. From what I could see nobody was complaining.
Trygve vs A Baby is at Assembly Roxy until Aug 27. Tickets here.
****