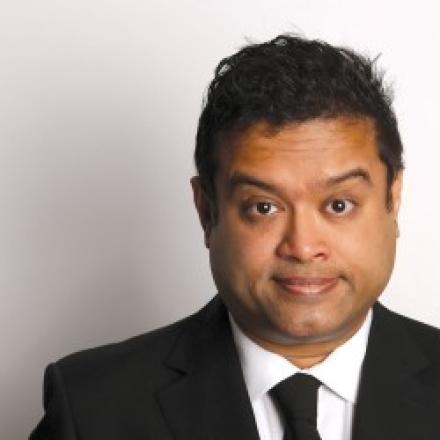 You think you had a bad year? Paul Sinha may be able to trump you. In Shout Out To My Ex the former doctor now best known as The Sinnerman, the general knowledge buff on The Chase, reflects on an eventful year in his life. It's a veritable rollercoaster but he makes it into a very funny one too. 
The year in question started well enough with a strong Edinburgh run. Afterwards he got an ominous message from his boyfriend saying that they needed to talk. "This looks important, it can wait until tomorrow," thought Sinha. Sure enough it was bad news - his boyfriend wanted to split and there was an added kick in the nuts that we won't reveal. Let's just say he had decided that Sinha wasn't his type any more.
We are then taken through a period that involves getting back on the dating scene in your mid-forties, dealing with your dad having a heart attack and being outed by the tabloids, which came as a shock to nobody. What next muses the Sinnerman, a newspaper was going to reveal that he was black? The show also spools back to his childhood and his gay awakening, prompted in part by a friend's old school porn stash and a centrespread Sinha found somewhat off-putting.
There are some good times too - a boozy night out with students in the Midlands allows him to relive his own undergraduate days and his quiz team is always fun for him even when their fortunes are fluctuating. He also made his panto debut and found himself being treated nicely for a change. There's an undertow here that Sinha can't catch a break on the comedy circuit. His face doesn't fit for television, he notes, making him like "Stephen Fry minus the money". 
It is odd that Sinha the stand-up has not had more television exposure. He is an absolutely safe pair of hands while also able to convey his obvious intelligence with some neat sardonic asides. OK, he is no Bradley Walsh, but he is accessible and smart and has the tools to work a room like a dream. I popped into this late afternoon gig just as it started expecting I'd easily get a seat. It was standing room only and surely not just packed with Chase fans. If a TV producer had been in they would surely have been impressed. 
Sinha might have had a bad year, but the show ends on a positive note. Which is apt. If he keeps coming up with gigs like this his luck has got to change at some point. 
Paul Sinha: Shout Out to My Ex is at The Stand until August 27. Tickets here.
****