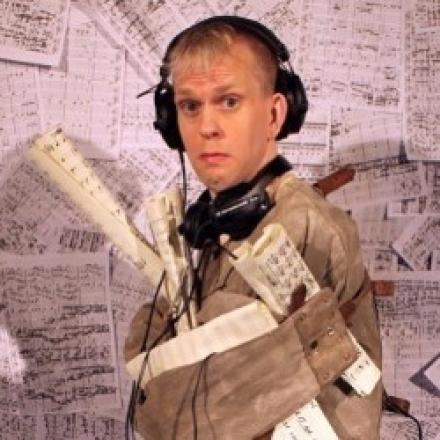 You won't see another comedy show on the Edinburgh Fringe like Robert White's InstruMENTAL. That's for sure. But then again you won't see another performer like Robert White, who is gay, autistic and a bit of a musical whizzkid. His show is a light opera about his life and, as the title suggests, he puts the MENTAL in Instrumental. 
And he certainly has an interesting story to tell. As well as having to come out to his parents he also found himself in prison for armed robbery. The details are not clear but it may possibly have been because he threatened someone with a musical stand held out as if it looked like a gun ("stand and deliver" geddit?).  
The trouble is that the wiry White is not what you would call a natural performer. He fires out the corny yet clever wordplay and cheesy yet ingenious puns at such a frenetic rate sometimes it is hard to keep up or relax and enjoy the show. At one point he picks up his trumpet and plays it in people's faces, knocking something over on his way back to the stage.
But his show is certainly inventive. It feels more like outsider art than stand-up as he fiddles with stuffed toys, pulls out unexpected props and does a few quick costume changes when not sitting at his keyboard playing simple but effective plinky plonk melodies. Whether it is to do with his autism I don't know, but he does have an acute attention to detail as well as an awkward manner.  
As he says during the show, he doesn't pick up on social cues like others, which must make live performance something of a challenge, yet he is clearly driven to express himself like this. His way of making himself clear is to hand out introductory notes at the start and offer footnotes at the end as people leave, which is not something you usually get from a comedy show.
Someone needs to harness this gift that he has because there is obviously something here. If it is possible to harness it. You don't exactly come out humming the tunes and I can't quite see InstruMENTAL replacing We Will Rock You in the West End, but if you are fed up with blokes in jeans and T-shirts talking about Tinder or Trump try White for something very different.
Robert White is at the Gilded Balloon until August 27. Tickets here.
***