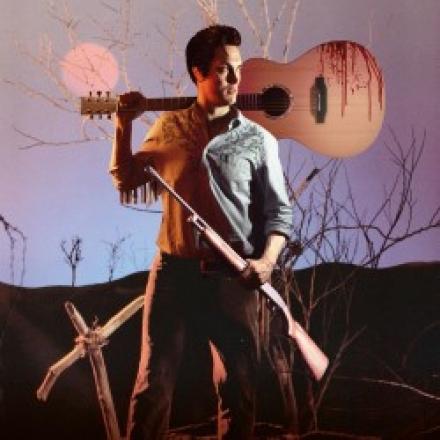 Update 23/8/17: Rob Kemp has been nominated for a lastminute.com Edinburgh Comedy Award for Best Newcomer. See nominees here.
Elvis is Alive.  Not only that, he is battling the forces of evil every night in a cellar on Blair Street. 
It doesn't matter if you have seen the Evil Dead, or even the spoof follow up The Evil Dead Two. But you shouldn't miss the chance to watch Rob Kemp, recreating Elvis at the height of the Las Vegas years, while also fighting a host of demonic forces trying to destroy the earth.
Kemp, a lanky, softly spoken young comic from the Midlands has come up with one of the most audacious and ridiculous ideas ever for his debut Edinburgh show. It's The Evil Dead Two, recreated on stage, live, in the medium of Elvis Presley.
"Treat it like a concert if you like," he suggests.  And we do, clapping, jiggling about on our seats and occasionally singing along.
Wearing a pale blue rhinestone studied shirt Kemp embodies sexy late sixties Elvis. But the words of the songs have been altered. Instead of young love, summertime and roses this Elvis sings about satanic possession, disembodied hands and a book made of human skin.
Kemp never lets the rock star charisma slip, even as he wields a chainsaw, wrestles with a demon hand and gets pinned to the ground by by the forces of evil. He has a good voice but this isn't an imitation of Elvis. Kemp somehow becomes Elvis - albeit one who is fighting a cellar full of demons in a haunted farmhouse.
He even jumps out of character altogether to become Rob Kemp again - slipping back into his own voice and shooting the audience a look which asks - how the hell did I get into this?
Projected short extracts from the film keep you abreast of the plot - particularly useful for people who like me haven't seen the Evil Dead - but there is really no difficulty in following what is going on.
It would have been so easy to go over the top with this and allow it to descend into chaos but Kemp keeps it subtle - keeping the blood and gore to a minimum and allowing the tension to build.
He is Elvis. He is is Bruce Campbell as Ash Wiliams in the Evil Dead Two and he is also, in odd unexpected moments, still Rob Kemp. Even when he's writhing on the floor with a demon Kemp sometimes pops out to ask in a Midlands accent if people are OK. Then it's back to full Elvis, back to the cabin in the woods, back to the forces of evil.
It's a mind-bending, very funny and extraordinary performance - and you never stop laughing at the crazy juxtaposition of it all.
It's a glorious celebration both of horror movies and of Elvis Presley. It is totally ludicrous but somehow, wonderfully, it is all done with love.
Rob Kemp: The Elvis Dead is at the Monkey Barrel until August 27. Details here.
*****