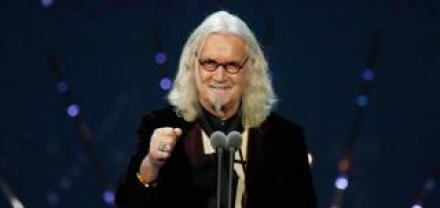 Comedy legend Billy Connolly has been awarded a knighthood in the Queen's Birthday Honours List.
He said he was "pleased and a little embarrassed...It won't really dawn on me until Glasgow people start calling me 'Sir Billy' or whatever they come up with...I feel as if I should be called Lancelot or something," 
Connolly, 74, was recently profiled in a BBC Scotland documentary and earlier this year in the ITV1 tribute Billy Connolly & Me: A Celebration (pictured).
Little Britain star David Walliams receives an OBE for services to charity and the arts: "The news made me happy, but nobody is happier than my mum," he told the Press Association.
Also honoured are veteran sitcom star June Whitfield and Julie Walters, who both become Dames.
And author/comedian Hawks receives an MBE for services to disadvantaged children in Moldova.