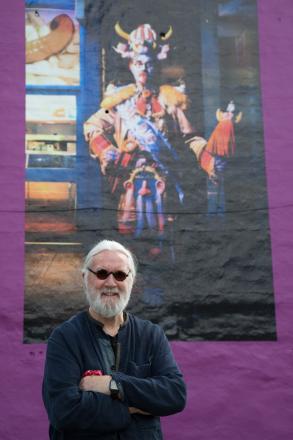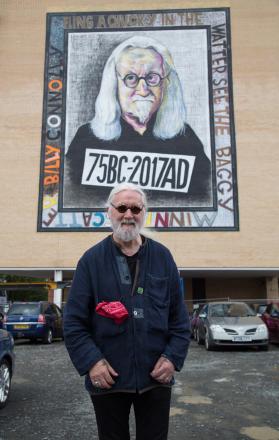 Pictures have been released of comedian Billy Connolly in front of portraits of him on the streets of Glasgow.
The murals are part of a 'larger than life' tribute to The Big Yin, launched by BBC Scotland in conjunction with Glasgow City Council and Glasgow Life. 
A programme will go out this week on BBC One Scotland on June 14 which will show clips of highlights from Billy's career, and Billy meeting the artists to talk about life, work, comedy and inspiration. 
The works are depictions from specially created portraits of Billy by artists John Byrne, Jack Vettriano and Rachel Maclean, who is currently representing Scotland in the Venice Biennale.
Byrne has created a portrait of Billy as he is now (middle), which will go on a wall end in Osborne Street, while a Jack Vettriano (bottom) painting from the comedian's World Tour of Scotland series in 1994, featuring a windblown Billy on a storm-lashed coast near John O'Groats, will be showcased in Dixon Street.
A Rachel Maclean digital print of Billy (top) - in a specially created outfit, replete with motifs from his career such as 'mini bike parked in bum' epaulettes, a sporran with an 'aged' nose sprouting hair, and make-up reflecting his famous 'pale blue Scotsman' joke, with representations of Glasgow life past and present in the background - will go up in the Gallowgate.
Connolly has been fully on board throughout and central to the whole project, meeting and sitting for the artists and has seen and is delighted with all three original artworks. He said: "I'm probably more famous for being a Glaswegian than anything else I've actually done. It's been great to have been home to take part in this and a real privilege to be part of these artists' work."
Pauline Law, Executive Producer at BBC Studios Pacific Quay Productions, says: "The project is a tribute to a man, who is an international star and national treasure, but who still remains in touch with his Glaswegian roots."
Rachel Maclean, whose work is called Big Yin, says: "I think there is a kind of responsibility representing Billy because he is so well known… he is this national treasure within Scotland."
Jack Vettriano admits to being "a huge fan". His depiction is called Dr Connolly, I Presume? while John Byrne's is simply named Billy Connolly. An old friend, who famously painted a portrait of Billy in the 1970s, Byrne pays tribute to Billy in the programme, calling him " a phenomenon... he is a one-off. He is larger than life."
The storeys-high portraits will be part of the council's City Centre Mural Trail. In the wake of the programme's transmission, the original artworks will be showcased at the People's Palace, alongside excerpts from the documentary.
Head of Glasgow Museums Duncan Dornan says: "We are delighted to be able to show Rachel McLean, Jack Vettriano and John Byrne's striking images of Billy Connolly at the People's Palace from 15 June.
"Billy Connolly needs no introduction to the people of Glasgow. His boundless talent as a comedian, actor and presenter makes him one of Scotland's most famous sons and so it is fitting these extraordinary works of art, commemorating this significant birthday, are to be displayed in Glasgow for the city's people and visitors to enjoy.
Billy Connolly: Portrait of a Lifetime, BBC One Scotland, Wednesday June 14 at 9pm. It will also be available on iPlayer after broadcast.
Pictures by Martin Shields/BBC Scotland