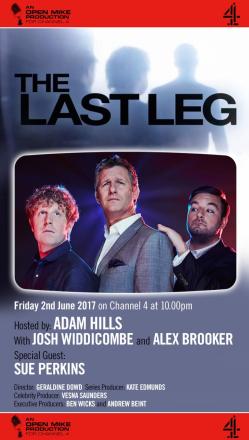 It's a bit of an odd night for comedy fans this evening. Because of the Question Time Leaders Special on BBC1 tonight's Have I Got News For You moves to BBC2 at 10pm. Alongside Ian Hislop and Paul Merton guest host is Victoria Coren Mitchell and guest panellists are Adam Boulton and Reverend Richard Coles.
As for Hospital People, having already been bumped by the Masterchef Final mid-series it now misses a couple of weeks due to the General Election, so the closing episode of the debut series will actually now go out on June 16. Not the easiest way to build up a following...
We can always rely on The Last Leg on Channel 4 though. Tonight Adam Hills, Josh Widdicombe and Alex Brooker will be joined by special guest Sue Perkins. Can't imagine for a moment what they will be talking about. Theresa May? Jeremy Corbyn? Donald Trump? Brexit? The Paris Agreement? I should imagine all of that and, of course, Covfefe. 

The Last Leg, C4, 10pm.