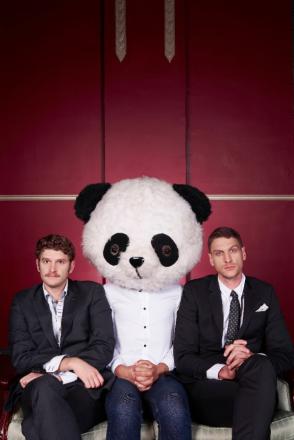 Fight in the Dog, the production company co-founded by acclaimed writer and comic Liam Williams, will take its first stable of performers to the Edinburgh Festival Fringe, producing shows encompassing a wide range of comedy genres, theatre and variety.
The line-up includes Tom Ballard, Giants, Jon Pointing and Phoebe Walsh, formerly of sketch group Oyster Eyes. See below for details of Edinurgh shows and London previews.
As well as ensuring the smooth production of its shows Fight in the Dog will act as a creative sounding board for its artists as they develop their shows in the run-up to the Fringe, with the aim of making the often-isolating art forms of comedy and small-scale theatre more collaborative.
Liam Williams said: "We selected each of our Edinburgh acts on the basis that he or she is:
1) Very good at comedy
2) Not a complete wanker. 
Taking into account those criteria, I truly believe our roster represents the absolute pick of the Fringe."
TOM BALLARD: Problematic
A funny show about whether anything can be funny anymore. Best Show nominee 2016, Edinburgh Comedy Awards. Best Show nominee 2016, MICF.
'Engaged, conscientious and consistently, archly funny, Ballard is precisely the sort of political commentator the world needs' **** (Scotsman).
PHOEBE WALSH: I'll Have What She's Having
We're born alone, we live with weird people we find on Gumtree, we die alone. Phoebe does some lovely jokes about the struggles of living, working and finding true love in this post-truth world. You'll either relate to what she's saying or feel glad that you don't. ***** (Skinny, Gay Times)
GIANTS: For an Hour
 
After a sell-out debut show at the Edinburgh Festival Fringe last year, Giants return with their sophomore hour. And boy, will it be great? Boy: no. Join Barney and Will for their unique brand of musically-infused sketch comedy, as they chart the past, present and future of their lifelong friendship with their 'distinctive twist on the genre's dynamics' (Chortle.co.uk). Guardian's Recommended Shows 2016 and Metro's Top Three Sketch Shows 2016.
JON POINTING: Act Natural
In this much anticipated debut show, Jon Pointing presents Cayden Hunter, an actor who will demonstrate the importance of selflessness and sharing through this (non-participatory) workshop.
'Keenly observed and impeccably performed' **** (Chortle.co.uk).
As seen on BBC Three's Pls Like.
JONNY WHITE REALLY-REALLY: Pigeons
Johnny is quite tall with a rakish air and a GSOH. He has made two series of short comedic films for Vice called Let's Consider and now he presents Pigeons, his debut stand-up hour in which the big questions (life, death, stag do angst) are bravely tackled and bravely abandoned. Lengthy imaginings about James Nesbitt snuggle up against tall tales of magic mirrors. There are also some more run-of-the-mill jokes about supermarkets and that kind of carry-on.  
HOTROCS: The Rolling Stoner Tour
A unique cabaret experience brought to you from a stoner's living room. Blending high-grade comedy and smooth rock n' roll, the Hot Rocs present an unmissable, alternative late-night sesh. More info coming soon.
The Bear Pack: Steen Raskopoulus and Carlo Ritchie
The Bear Pack is Sydney's Steen Paskopoulos (BBC's Top Coppers, National Theatresports Champion) and Carlo Ritchie (The Checkout, Big Head Mode). Their show is 60 mins of improvised storytelling. Inspired by your suggestions, the Bear Pack will create the kind of stories your grandparents wish they could tell you. Guaranteed to make you feel again, the Bear Pack is the steam-ship of hilarity you've been waiting for, don't let it sail away without you.
FIGHT IN THE DOG PREVIEWS @ NEW DIORAMA THEATRE
An full day of laughs at our favourite London venue.
24th June 2017
TONY LAW / ROSE MATAFEO / PHOEBE WALSH / ROB CARTER / JOHNNY WHITE REALLY-REALLY / HOT ROCS
ONSALE here
 
★ ★ ★ ★ ★ ★ ★ ★
FIGHT IN THE DOG PREVIEW FESTIVAL @ THE LANDOR
A lovely weekend of lovely comedy above a lovely pub. With lovely beers and a lovely outdoor 
7th, 8th and 9th July 2017
Upstairs at the Landor pub, Clapham
★ ★ ★ ★ ★ ★ ★ ★
7TH JULY: MICHAEL STRANNEY, JOHNNY WHITE REALLY-REALLY, MAE MARTIN & JOE LYCETT
Onsale HERE
★ ★ ★ ★ ★ ★ ★ ★
8TH JULY: SOFIE HAGEN, LARRY DEAN, EDD HEDGES, GIANTS, PHOEBE WALSH, NISH KUMAR
Onsale HERE
★ ★ ★ ★ ★ ★ ★ ★
9TH JULY: LUKE KEMPNER, JON POINTING, JOSEPH MORPURGO, FERN BRADY, SPENCER JONES, MAT EWINS
Onsale HERE