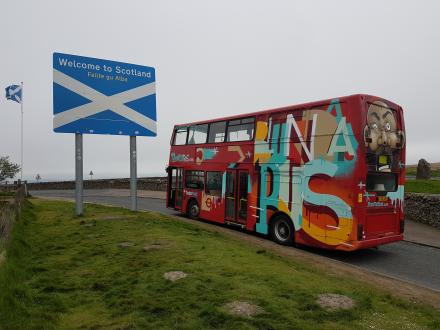 Heroes of Fringe Line Up 2017
 HEROES @ BLUNDABUS (212)
15:45: Chris Betts vs The Audience
A live game show that pits the audience against the wits of grand inquisitor, comedian and pedant Chris Betts. Chris will argue against literally anything. Come take your shot. Prizes for the winning team!
17:00: Madame Señorita: 20 Different Shows; Come Every Day
Award-winning performer Paula Valluerca, AKA Madame Señorita, aims to create a show from scratch in 20 nights. 'The Funniest tongue in the circuit' (Steve Bennett). Work in progress: come every day!
18:15: Bob Slayer: Whatever Next?
Last Fringe, reading the Chilcot Report inspired political re-awakening at a time when I'd rather be asleep... What next? Winner: Edinburgh Comedy Award (Spirit of the Fringe), Malcolm Hardee, Zeitgeist, Barry Awards. Idiot. 'Hilarious Fringe experience, not to be missed...' (Scotsman)
19:30: Carl Donnelly: The Nutter on the Bus
Join double Edinburgh Comedy Award nominee Carl Donnelly on the top deck of a bus for his all new show about spiritual awakenings and letting go of your past. 'Observational genius' (Guardian).
20:45: David Quirk: Cowboy Mouth
Winner: Piece of Wood (Comedian's Choice) 2012, Melbourne International Comedy Festival. Four different ladies in four different parts of the world had four different dreams about DQ and wrote four different messages to him about them.
22:00: Desiree Burch: Unf*ckable
As seen on Frankie Boyle's American Autopsy and 8 Out of 10 Cats. Heard on Welcome to Night Vale and The Guilty Feminist Podcast. 'Deservedly on the rise' (Guardian). 'Left me breathless with laughter' (ScotsGay.co.uk).
23:15: Jolly Goodfellow: Fooling a Part
It's Jolly Goodfellow AKA Rumpel's rough around the edges debut Edinburgh Fringe comedy show. He's performed shows lasting 48 and 53 hours, travelled to 41 US states and 70 countries, entertaining in 50. From Oz.
00:30: BlundaBuskers Fringe After-Party & Piano Bar (until 03:00)
BlundaBus infamous and intimate late-night knees-up that probably isn't for you. Anything can happen if you let it. Including Piano-Oke, Happy Shed, Twister, pies, not a show... A way of life! 'Totally original...' (Scotsman).
THE BUS STOP - 15:00: Susie Steed: Money Walks – The Unofficial Story of Capitalism
Walking tour of capitalism, from British Empire to banking crisis, with jokes. As Britain leaves the EU and Scotland tries to leave Britain, explore the shared history we'd rather forget. (1h15min, tour covers approx. 1 mile)
CHILCOT SHED - 16.00 until 19.00, 7th – 19th (not 9th): Iraq Out & Loud: We Read the Chilcot Report (Documentary)
Last Fringe 1,444 people read the entire Chilcot Report in a garden shed. Non-stop. 284 hours 45 mins. This is the documentary shown in the same shed on a loop. (duration approx. 30mins)
HAPPY SHED – 17:00, 18:00, 19:00, 20:00 What's in the Happy Shed?
Mystery pot-luck intimate performance art show: Is it alive? Or is it dead? It's a total surprise in a garden shed. Will it be sexy or will it be Scrabble? You'll only find out if you have a dabble! (run time 20 mins)
HEROES @ MONKEY BARREL (515)
9 Blair St. EH1 1QR
HEADROOM (GROUND FLOOR)
12:00: This Is Your Trial (PG)
The comedy court returns, but now for all the family! Top comedians are lawyers prosecuting and defending audience members accused of crimes. Best Children and Families Show IYAF 2016. 'Perfect bit of improv mayhem' (Mirror).
13:10 Rik Carranza Presents: Star Trek vs Star Wars
Prepare yourself for the ultimate showdown in this comedy debate show. Geek culture collides in a fight to see which is better: a galaxy far, far away or the final frontier.
14:20: John-Luke Roberts: Look on My Works, Ye Mighty, and Despair! (All in Caps)
The cult-favourite alternative comic invites you to his brand-new brilliant hour of extraordinary-absurdist-character-comedy-nonsense-sort-of-stand-up and hubris. 'Alternative comedy close to its pinnacle' (Chortle.co.uk)
15:40: Simon Morley: Naked Ambition
20 years ago, Simon Morley had an idea that would blossom into one of the craziest shows on the planet, Puppetry of the Penis. From the bedroom to Las Vegas, here's how it all began.
17:00: John Kearns: Don't Worry They're Here
The only winner of the Best Show and Best Newcomer Edinburgh Comedy Awards returns for the first time. 'Heading for the comedy stratosphere... you're in the hands of a master' (Guardian).
18:00: Spencer Jones: The Audition
BAFTA nominee. UK Barry winner: Best Show and Best Performer. Spencer Jones returns to Edinburgh with a mash-up of music, visual, prop, character comedy. Creator, writer and star of BBC's Big Babies. As seen on Live At The Apollo, Upstart Crow, Skins, Hollyoaks, Family Tree.
19:40: Glenn Wool: Viva Forever
Glenn (as heard on Freestyle with Frankie Boyle, as seen on Doug Stanhope and Friends) returns with a hysterical new show chronicling his past two years, an interesting story because...well, just come to the show.
21:00: Phil Nichol: Your Wrong
Trump: your wrong. Brexit: your wrong. Twitter: your wrong. Tinder: your wrong. Grammar: your wrong. Edinburgh Award-winner Phil Nichol has made mistakes. So have you. Not coming to this show would be one.
22:20: Brendon Burns and Colt Cabana Do Comedy and Commentary to Bad Wrestling Matches
What it says on the tin. Everyone's favourite late night hang out. The dumb show for no one is now in its fifth spectacular year. Different show every night. Season and weekly VIP passes available. 'The funniest late show in town' (ThreeWeeks).
23:50, Sun – Weds: Alternative Comedy Memorial Society (ACMS)
A Petri dish teeming with innovative bacterial comedy (metaphorical), ACMS boasts the least traditional of double-act hosts – Thom Tuck and John-Luke Roberts – and a ludicrous plenitude of guests. 'Sort of comedy' (Stewart Lee).
23:50 Thur – Sat: Phil Nichol: The Asylum
Certifiably unhinged comedy cabaret, unlike any show you'll see this Fringe. Special guests and hysterical laughter guaranteed. A three-hour show with DJ and club too. You'd be bonkers not to come.
BANANA SKIN (BASEMENT)
12:30: Lucy Pearman: Maid of Cabbage
'Traditionally, unmarried maids were sent into the vegetable garden to choose the perfect cabbage' (Anon). Bonkers storytelling debut from Pearman (LetLuce, Weirdos) 'Very endearing to watch... an integral feature of pioneering new comedy' (FunnyWomen.com).
13:40: Ari Eldjárn: Good Afternoon
Iceland's biggest comedian making his Fringe debut. Performed with Ari Shaffir, Bill Burr, Ed Byrne and the Icelandic Symphony Orchestra. Fast and friendly comedy. 'Very talented comic. An Icelandic treat' (Jim Gaffigan).
14:50 Pat Cahill: The Fisherman
Having hidden in plain sight as an absurdist comedian for a while now, it's time for Pat to flash you a peep at his ultimate fishy form. 'True star quality' (Evening Standard). 'Wonderfully weird' (Guardian).
17:20: Liam Withnail: The Immigration Game
#LoveKnowsNoBorders. 'Fantastic' ([i]Scotsman[/i]). 'Slick, fast paced banter' ([i]Skinny[/i]). 'Fringe shows you need to see' (Wow247.co.uk). Withnail returns to the Fringe after discovering the true cost of love in the United Kingdom.
18:40: Larry Dean: Fandan
Amused Moose Comedy Award winner and Foster's Comedy Award nominee returns following his debut UK tour and a stint at the Melbourne International Comedy Festival. 'Charismatic stand-up natural… makes it look easy' (Chortle.co.uk). 'Unmissable' (EdFestMag.com).
20:00: Betty Grumble: Love and Anger
Sex clown, wild woman and surreal showgirl, the award-winning Betty Grumble returns to Edinburgh with her ecosexually charged flesh riots of laughing love. 'Transformative and wild!' (Peaches).
21:20, 4th – 8th: Tim Renkow Has Accepted Satan as Lord and Savior
Come on guys! Let's worship Satan, yay! It's worth a try. After all, it can't be any worse. As seen on BBC One, Two and Three, NBC.
21:20, 10th – 27th: Phil Kay: Euphoric
'A comedian like no other. There's so much humour in the hour it's hard to breathe. This original comedy genius is like a Choose Your Adventure. The free-forming journey that is utterly unforgettable!' (Australian Times).
22:40: Luke McQueen: The Boy With Tape on His Face
Award-winning comedian Luke McQueen attempts to perform stand-up without the use of his forehead. 'His performance is as electrifying as it is disconcerting… raw potency and inspired ideas' (Chortle.co.uk).
00:00: Rob Kemp: The Elvis Dead
Cult classic horror Evil Dead 2 reinterpreted through the songs of Elvis*. Obviously. Tribute to the ultimate in gruelling terror... and the King of Rock'n'Roll. Winner: Best Show and Best Musical Leicester Comedy Festival. *Presley
HEROES @ THE HIVE (313)
15 – 17 Niddry St. EH1 1LG
HIVE CAVE
13:00: Adam Larter: L'Art Noveau
This show is an art show featuring all of my favourite colours. 'One of the most prolific people in comedy' (Chortle.co.uk). 'Nothing is a waste of time if you use the experience wisely' (Rodin).
14:15, first week only: Adrienne Truscott's A One-Trick Pony (Or Andy Kaufmann Is a Feminist Performance Artist and I'm A Comedian)
Truscott wrestles with: standing up while telling jokes, second shows and stealing material, in a comedy homage to Andy Kaufman!
15:30: Will Seaward Goes to El Dorado
Will Seaward is going to South America in search of the lost city of El Dorado. For real. And he's recruiting! This show is his pitch. 'Comedy gold' (Fest). 'Legend' (TheNewCurrent.co.uk).
16:45: Pete Johansson: Pete Jo-Handsome Comes Alive!
For this brief hour, the very attractive Pete Johansson emerges to give all his love and skill and joy and thought to the one true god worth possibly dying for: live comedy.
18:00: Adam Hess: Cactus
Edinburgh Comedy Award-nominated chap and star of Live at the Palladium, Live From the BBC and other stuff returns for another smash-hit show. 'I've seen few shows that are funnier' (Times).
19:15: Bobby Mair: Won't Make You Happy
Another honest, gut-wrenchingly hilarious hour of stand-up comedy. As seen on 8 Out of 10 Cats, Virtually Famous, KSI's Demolished and supporting Bill Burr and Doug Stanhope.
20:30: Paul Currie: Cats in My Mouth
A brand-new show from this hairy idiot man-child, strap in for more fun and nonsense! Voted Best New Show, Leicester Comedy Festival, 2017. 'Currie is unique and utterly original' (Skinny).
21:45, Mon - Fri: The Carl Donnelly and Chris Martin Podcast Live!
Join Carl Donnelly and Chris Martin for a nightly live podcast with guests, chat, stand-up and all round fun and games. Listed in the Guardian's Top Ten Comedy Podcasts.
HIVE BUNKA
13:15: Candy Gigi Presents: Becky Rimmer's Bat Mitzvah!
Becky Rimmer, along with her father and mother, Mervyn and Gaye Rimmer, invite you to join them in the celebration of Becky's Bat Mitzvah! 'Hilarious raw insanity that's rarely matched' (Chortle.co.uk).
14:30: Ali Brice's Never-Ending Pencil
A monk starts the show. Then a man takes you on a very silly, yet very heartfelt journey where he'll work out if he's still young enough to chase his dreams.
15:45: Marny Godden is One Tooth
A toothless punk wakes one morning and asks herself the all-important question: why are we here? Expect cod philosophy, serious attitude and a chicken going on. 'Godden is hilarious' (ThreeWeeks).
17:00: Lucy Hopkins: Powerful Women Are About
A vibrational revolution of being, channelled by a goddess. Part electro-ritual, part theremin-experiment, part light-fantastic. Ultra-conscious comedy by award-winning, internationally-touring, terribly present clown. Come as you are. Leave transformed. 'Hopkins is fantastic' (Guardian).
18:15: Is Edward Aczel Infinite?
Have you ever thought: Is Edward Aczel infinite? Or is it just a dream? Ed tries to grasp the infinite… with jokes this year. 'Dead-pan dynamo' (Mirror). 'Still the master of the genre' (Scotsman).
19:30 Joz Norris: The Incredible Joz Norris Locks Himself Inside His Own Show, Then Escapes, Against All the Odds!!
I saw Jason Donovan alone onstage building his own cage. BBC Radio 4. Channel 4. ITV. ITV2. Dave. Weirdos. ACMS. Idiot.
20:45 Mat Ewins Presents Adventureman 7: The Return of Adventureman
Highly anticipated debut from the 2009 Chortle Student Comedy Award finalist and 2010 Reading New Act of the Year finalist. 'Confident stage presence... has a good 10 to 20 minutes' (LondonIsFunny.com).
22:00, Sun - Thurs: Mark Dean Quinn: My Heart on a Plate
I'm really proud of this show. I'd love you to come. 'A fascinating, poignant and extremely entertaining study in deadpan tragicomedy' (Exeunt). 'Brilliantly deadpan' (Chortle.co.uk). 'People were laughing for some reason' (BroadwayBaby.com).
HEROES @ DRAGONFLY (414)
52 West Port, EH1 2LD
14:00: Aideen McQueen: No Satisfaction
I can resist everything except the temptation... to paraphrase Oscar Wilde! Funny tales of excess, failure and sugar daddies with just a smidgen of success.
15:00: Thom Tuck: An August Institution
Thom Tuck returns for his sixteenth consecutive Fringe with his fourth stand-up show. Containing free blasphemy and guaranteed stupidity, Tuck takes on sacred cows and, most probably, gets his bum out. Not for the stupid.
16:00, 3rd – 10th: Jason Neale: Talking and Pausing
Jason turns up, picks up the mic and talks; there's no narrative arc to the show, no props, he's not cool, he's not alternative, just really funny for an hour.
16:05, 11th – 15th: MakeyUppers' Bedtime Stories
Once upon a time, two fair maidens decided to drag fairy tales kicking and screaming into the 21st century in this sharp and face-achingly original review of all things "happily ever after".
16:00, 16th – 27th: Michael Brunström: Parsley
Surreal flights of fancy inspired by the popular kitchen herb parsley. 'Sense-bendingly entertaining... great, crazy, never-to-be-forgotten comedy' (Scotsman). 'An artistic genius' (Skinny). 'Hilariously silly... a visionary artist' (Chortle.co.uk). Malcolm Hardee Award winner 2015. 'What the...?' (Metro)
17:00: Ben Target's Orangeade
Gentle comedy. Mellow drama. Balmy ballgames. Peeling back the years with a softer show, the sunset on an endless summer from 'maverick physical comedian (and Edinburgh Best Newcomer nominee) Ben Target' (Guardian)
18:10: Sam & Tom: Unrectifiable
Post-sketch revival. Sam & Tom, bellies full, bring their best and first show of skits and bits to the realm of darkness. Winners: So You Think That's Funny? 'Gleeful silliness' (Skinny). 'Extraordinary comics' (Manchester Evening News).
19:20: Twonkey's Christmas in the Jungle
2016 Malcolm Hardee Award-winner for Comic Originality. 'Mr. Twonkey's blood type is joy and I am delighted to say he is highly infectious' (Copstick, Scotsman). 'Dark, demented, slaps you from all sides' (Stage).
20:30: Luca Cupani: It's Me!
Not overly interested in the biggest problems of the world, Luca focuses on an easier question: who am I? The award-winning Italian comedian who was too funny for his own country might even find an answer!
21:40: Yuriko Kotani: Green in English, Blue in Japanese
I am a UK-based new-ish comedian from Japan. Please come and join my work in progress show! As seen on Russell Howard's Stand Up Central. BBC Radio New Comedy Award 2015 winner.
22:50: Andy Barr: Tropic of Admin
Six years ago award-winning administrator Andy Barr was marooned on a tropical island. Now he tells the story of his stranding, his rescue and the years of administration, solitude and madness in-between. 'Rising star' (LaughOutLondonComedyClub.co.uk).
23:50: Javier Costales: The Invisible Blind Man
Javier is talked about as surreal, absurdist, observational, daft, satirical; he doesn't stand as a novelty, nor does he mirror what you know about stand-up comedy. (Goonsintoon)
More info here.
Pages