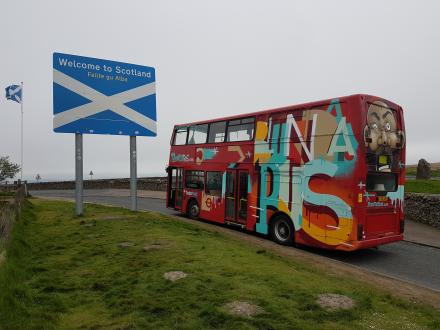 Bob Slayer's Heroes of Fringe returns for a sixth year this August with a clutch of Edinburgh Comedy Award winners including John Kearns, Phil Nichol, Brendon Burns, Bob Slayer, Adrienne Truscott. Plus new work from acclaimed Fringe favourites Spencer Jones, Adam Hess, Carl Donnelly, Ed Aczel, Paul Currie and debut hours from a diverse set of performers including Iceland's Ari Eldjárn, Weirdos' Lucy Pearman, and The Elvis Dead - a retelling of Evil Dead 2 through the songs of Elvis from Rob Kemp.
Known for its creative programming, guerrilla tactics and innovative Pay What You Want model, Heroes is guided by the passionate belief that performers should come first. Its artists always take the lion's share of ticket sales and enjoy total creative freedom.
From the surreal Mr. Twonkey to the NSFW tales of Puppetry of the Penis founder Simon Morley, from a walking tour of the unofficial history of capitalism to Lucy Hopkins' part electro-ritual, part theremin-experiment Powerful Women Are About, Heroes is dedicated to delivering some of the Fringe's funniest, silliest and most unforgettable shows, happenings and experiences.
The Chilcot Shed, which hosted the 1,444 readers of 2016's multi-award winning Iraq Out & Loud, screens a new documentary about the public reading of the Chilcot Report, while the Happy Shed is home to a mystery pot-luck intimate performance art show ("Is it alive? Or is it dead? It's a total surprise in a garden shed").  Other special performances include one-off shows from Alexis Dubus' Naked Cabaret, and limited week-long runs from Tom Bell, Al Pitcher and Adrienne Truscott.
Heroes also promises some of the most anarchic and innovative late nights in Edinburgh with Phil Nichol's Asylum Cabaret, the Alternative Comedy Memorial Society, The Elvis Dead and a nightly Fringe After Party & Piano Bar on the Blundabus.
Reigning Spirit-of-the-Fringe Comedy Award winner Bob Slayer says: "The Fringe is an amazing creative hot pot of talent that is constantly at risk of being packaged up and neatly commodified by the industry. Heroes seeks to provide a thriving unrestricted home for artists to do what they do best and produce beautiful bonkers outpourings of themselves. When I first came to the Fringe in 2008 it was dominated by a few industry voices. We have worked hard to redress the balance in favour of the performers and make the Fringe a creative, fun and playful place one more."
For full Edinburgh details click here.